Blog
3 reasons your HR digital transformation might fail
Image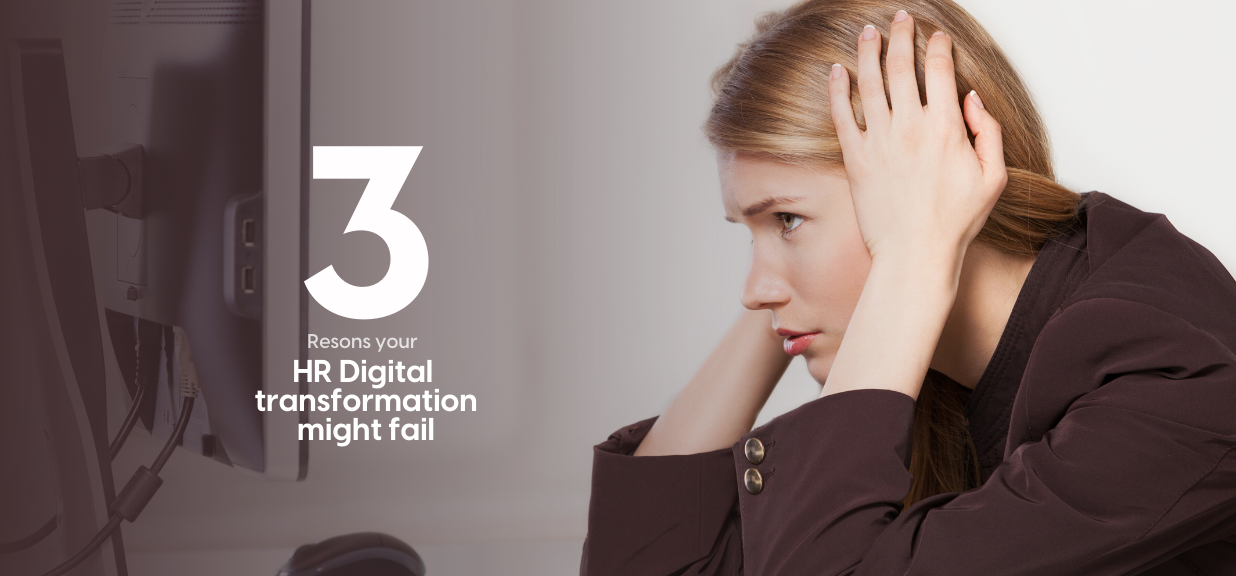 As the first stepping stone towards sustainably reinventing themselves, many organizations are now becoming acquainted with digital transformation. But, the reality is not what it seems.
A KPMG International survey highlights that about two-thirds of HR executives agree HR has undergone or is undergoing a digital transformation. But only 40% of HR leaders have said they have a digital work plan at the HR or enterprise level.
Several organizations are either wrestling with the recently implemented technology or are in a dilemma to transform themselves digitally. There are also some with a 'wait-and-see' mindset. What is holding them back from going forward? What are the possible pitfalls on the grounds of which your HR digital transformation might not hit a home run? Let's brainstorm.
1. Stakeholder identification and alignment issues
When an HR transformation is planned, the right stakeholders who can spearhead the process need to be identified. All groups involved are required to align and get themselves prepared for the unprecedented changes that are forthcoming. They should be clear with the goals to be achieved and the prioritization of the plans. Unless this alignment happens, the strategic roadmap for a digital transformation process can never be achieved. HR transitions are, in general, massively complex, and the teams lacking the preparedness will make the nut more challenging to crack. Ultimately, the entire transformation process will be compromised.
2. "Slow and steady" is not going to win the race
It is agreeable for a process to be planned with extensive caution and not to rush towards completion. But this is not going to work in the case of an HR transformation engagement. Digital disruption is one of the most crucial challenges driving a successful HR transformation. Lack of project management and decision-making efficiency can constitute the lion's share in slowing down the transformation process.
3. Your HR transformation needs to be (c)loud enough to be heard
Organizations can achieve an HR digital transformation that is 'cloud enough' when they adopt fully integrated cloud-based HCM systems. One of the significant HR trends of 2019 is the adoption of subscription-based cloud systems that are available as SaaS (software as a service) for commercial use. These systems were introduced for various purposes, out of which providing an integrated suite of tools and improving the user experience are pivotal.
But sadly, organizations that have implemented these systems cannot taste their benefits wholly. When Deloitte researched the possible reasons through the Global Human Capital Trends 2019 survey, the following facts came to light:
Sixty-five percent of the respondents said that the technology they are using is either unsatisfactory or only fair at achieving the claimed objectives.
Only 5 percent of the respondents used a fully integrated HR cloud platform.
Twenty-nine percent of the respondents had no cloud-based systems at all.
The remaining majority had a mixed set of HR systems.
Most organizations are still using and maintaining multiple HR systems. This seems to be why they have not been able to leverage cloud-based technology fully.
But some organizations have transitioned successfully with the help of cloud transformation service providers like Neeyamo. Such providers ease the process by following practices that ensure a fast cloud transformation journey.
Gartner's Digital Enterprise 2020 Survey says that 67% of the business leaders concurred that unless their organizations undergo significant digitization by 2020, they would nevermore be competitive. Hence, it becomes indispensable for an organization to embrace digital. A radical HR digital transformation is a necessary disruption!
Click here to learn more about how your company can achieve a successful HR digital transformation. We'll be happy to assist you.
From the desk of Neeyamo's editorial team.
Stay informed with latest updates
If you're curious and have a thirst for knowledge pertaining to the HR, payroll, and EOR universe, don't miss out on subscribing to our resources.