Blog
5 ways to ensure source data quality for payroll accuracy
Image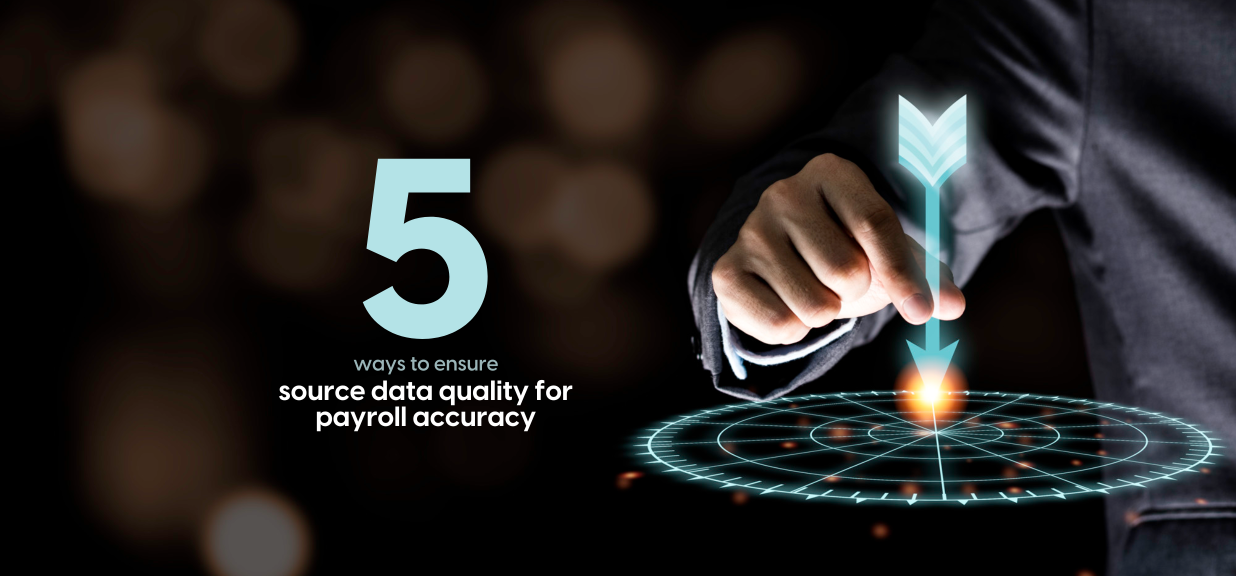 What if we told you that there is always a secret ingredient to a perfect meal? As salt is to food, inputs are to payroll processing! As the wrong quantity of salt can spoil your dish, inaccurate data at the very beginning of your payroll process can jeopardize the quality of the 'gross-to-net' calculation. 
Payroll processing has come a long way. Typically, any payroll cycle consists of three major layers – input, processing, and output. While there are remarkable advancements made in the processing and output layers, the input layer is still managed rudimentarily. Whether you are managing payroll in-house or through payroll providers, even the smallest data error can ruin your entire payroll process and put your credibility at stake. 
In the global arena, where borders seldom exist for businesses, organizations can encounter complexities of managing data scattered across multiple systems, including HRIS, Time & Attendance and Absence Management. In addition to these complexities, nonstandard formats of storing & maintaining data will increase the possibility of inaccuracies in payroll processing. In order to avoid miscalculations in payroll, it is clearly necessary to have an accurate data input layer. How can we ensure the quality of HR data that feeds into payroll engine? 
Here is the secret recipe for an accurate input layer: 
1. Automating Input Data Collection 
Organizations with widespread employees face a paramount challenge of data consolidation from multiple systems. From supplemental runs to employee absenteeism rates to basic employee information from the HRIS, traditional payroll function has been predominantly paper-bound and human-led. Collecting this data and providing them to the in-house payroll team or payroll partner is a laborious task. Today's leading global payroll solutions offer automated solutions that ensure your system of records is seamlessly integrated to avoid errors or duplication of inputs. Furthermore, these solutions ensure easy flow of data. By automating the process, the payroll system will not require a manual touch to the data files before including them in the 'gross-to-net' calculation. 
2. Choosing prevention over reaction 
Validating the data can help the payroll team detect and fix errors even before they occur. The process includes clearly segregating and defining the roles and responsibilities of the maker, checkers, and reviewer for getting data validated in a timely manner. With the advent of AI and robotics in HR technology, today's payroll providers are capable of creating validation bots that further reduce manual intervention in the process of validation and ensure maximum accuracy. 
3. Reporting and Analyzing Data 
With conventional payroll systems, payroll reports are provided only after the payroll is processed. There are not many payroll service providers who can provide you an analysis of the inputs received to process your employees' payroll. Imagine getting a periodic input report and analysis based on the pay component factor or individual employee's data. This is possible with a modern-day payroll software. Slicing and dicing these reports can help understand where you've gone wrong and how you can eliminate future possibilities of these errors. 
4. Effectively using 'self-service' 
Using effective manager self-service systems will ensure timely communication of employee life cycle information on a real-time basis – This will include data inputs around employee separation/resignation, absence, attendance management etc. Extracts from this system could be used as a reliable payroll input source and will further help increase payroll accuracy. 
5. Global Payroll on a unified system 
Consistent and accurate data inputs remain a challenge for organizations using legacy systems and fragmented payroll models. In fact, these disconnected legacy payroll systems are the main reason why organizations cannot leverage big data to the fullest. Unified global payroll management systems like Neeyamo Pay give organizations the edge to standardize and collate data from various locations providing a single source of truth for the payroll information. Such platforms allow multi-level validations to ensure data accuracy and promptitude. 
6. Adhering to state and country-specific compliance 
Compliance and payroll accuracy go hand-in-hand. When your payroll process is backed by a proactively compliant framework, the chances for your source data to be accurate soars high; ultimately, payroll accuracy becomes plausible. For instance, ensuring the statutory changes are monitored will in turn ensure there are no payroll variations month-on-month. 
Accuracy and timing of payroll inputs are one of the biggest challenges faced in payroll service delivery and processing. Incorrect source data management will lead to incorrect 'source-to-gross' calculations, in turn, leading to incorrect 'gross-to-net' calculations. Hence, it becomes inevitable for assuring source data quality to achieve payroll accuracy. With that secret ingredient added, your global payroll will become a scrumptious meal! 
From the desk of Neeyamo's editorial team.
Stay informed with latest updates
If you're curious and have a thirst for knowledge pertaining to the HR, payroll, and EOR universe, don't miss out on subscribing to our resources.