Blog
Streamlining Success: Benefits of an integrated HRIS and Payroll System
Image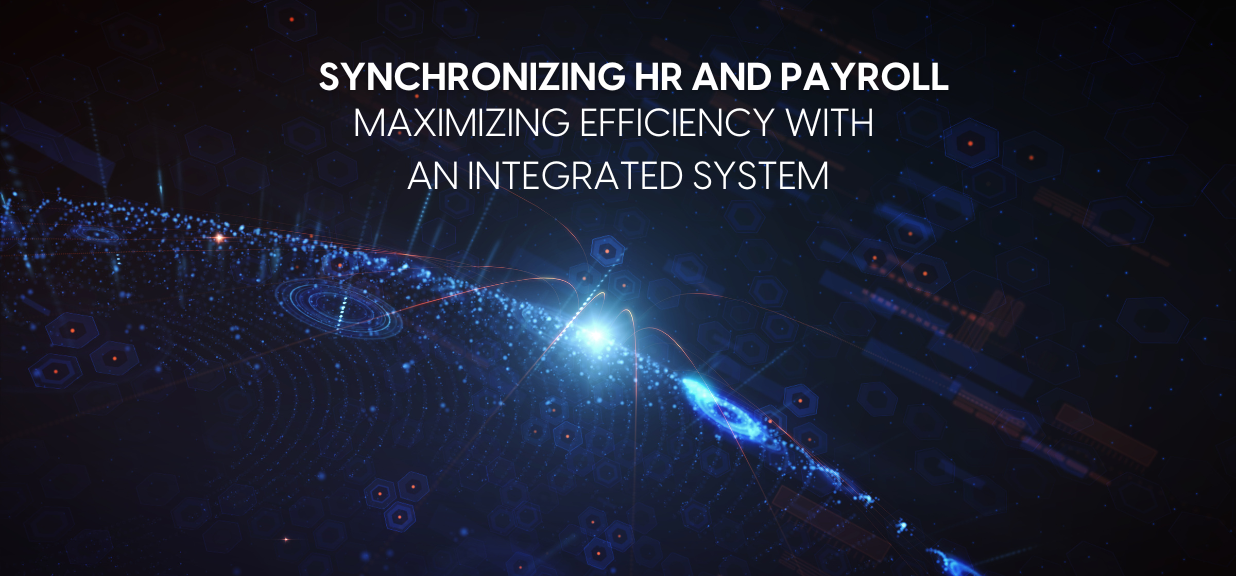 In the modern business landscape, data is often called the new oil. This invaluable resource fuels decision-making, operational efficiency, and innovation making it crucial for any organization to harness its potential effectively. However, data synchronization remains challenging, especially when managing human resources and payroll processes. In order to address this issue, organizations must choose to adopt an integrated HRIS and payroll system as this helps break down the data silos and revolutionize HR and payroll operations.
The Heart of the Matter: Data Synchronization
Data synchronization is the core challenge facing organizations regarding HR and payroll processes. Essentially, it refers to the seamless data flow between HRIS and payroll systems. Without integration, these two essential functions operate in isolation, leading to inefficiencies, inaccuracies, and missed opportunities. Let's explore how an integrated HRIS and payroll system can address this issue and provide a multitude of benefits:
1. Efficiency
Efficiency is at the forefront of an integrated HRIS and payroll system. When HR and payroll data are in sync, administrative tasks become streamlined. HR and payroll teams will no longer need to manually input employee data into payroll software, reducing the time-consuming tasks and the risk of errors. This streamlined efficiency allows HR personnel to focus on more strategic tasks, like talent development and employee engagement, which ultimately enhance organizational success.
2. Accuracy
Data accuracy is paramount in HR and payroll. A single data entry error can lead to countless payroll problems, compliance issues, and disgruntled employees. Integrating HRIS and payroll significantly diminishes the risk of such errors. Integrated systems ensure employee data, such as salary adjustments and tax withholdings, is consistent across both platforms, minimizing discrepancies and compliance challenges.
ALSO READ | 5 ways to ensure source data quality for payroll accuracy
3. Visibility
An integrated system provides comprehensive visibility into HR and payroll processes. Employee self-service is greatly enhanced, allowing employees to access and track their personal data easily. Data synchronization enables HR and payroll teams to access and analyze real-time HR data and attendance tracking, facilitating better decision-making. With data warehousing and master data management, organizations can ensure they have a single source of truth for critical HR and payroll information, promoting transparency and trust.
4. Reporting
Integrated HRIS and payroll systems offer robust reporting capabilities. With these systems, you can create customized reports that provide deep insights into payroll processing, employee benefits, compliance, and financial data. Transactional data management ensures that time and attendance records are accurately recorded and readily available for reporting, making auditing and compliance checks a breeze.
5. Costs
An integrated system can also yield substantial cost savings. Businesses can achieve cost efficiencies and reduce administrative overhead by reducing data entry time, errors, and compliance issues. Additionally, the ability to track delta changes in data – how data is stored and tracked in the system – can help identify areas for process improvement and cost reduction.
6. Employee Experience
An integrated HRIS and payroll system also enhances the employee experience. Employees can easily access their payroll information and HR-related data, fostering organizational transparency and trust. This improved experience contributes to employee satisfaction and retention, which is crucial in today's competitive job market.
7. Scalability
Integrated HRIS systems are scalable. They are vital, especially for enterprises experiencing rapid growth or organizational transformation, facilitating a seamless adjustment to evolving business conditions. Whether an organization is expanding, downsizing, or restructuring, the HRIS can accommodate changes in employee numbers, roles, and responsibilities without necessitating labor-intensive manual intervention. A scalable HRIS system empowers businesses to maintain agility and responsiveness in a competitive environment, forming the bedrock for streamlined HR operations and heightened productivity during periods of organizational expansion.
8. Data Security
HRIS integration prioritizes data security and confidentiality, acknowledging the sensitive nature of the information involved. Employee records, sensitive financial information, and other HR-related data are protected through robust security measures, effectively mitigating the potential for data breaches and unauthorized access. Encryption protocols are applied to data both in transit and at rest, guaranteeing the preservation of information's confidentiality and integrity. Furthermore, compliance with industry regulations and data protection laws, such as GDPR, is rigorously maintained.
ALSO READ | Fortifying Payroll Operations: The Crucial Importance of Data Security
In a data-driven world, integrating HRIS and payroll systems is not just a luxury; it's a necessity. The benefits are clear: improved efficiency, data accuracy, visibility, reporting, reduced costs, and a better employee experience. The challenges posed by data synchronization are addressed through data warehousing, delta change in data tracking, master data management, and transactional data management.
By integrating HRIS and payroll systems, organizations can ensure that their HR and payroll processes operate harmoniously, allowing for seamless data flow and supporting smarter, more informed decision-making. In doing so, they create a solid foundation for business success. They are better equipped to navigate the ever-evolving challenges of the modern workplace with a robust and integrated HR and payroll solution.
To know how Neeyamo can ensure that your organization's HR and payroll process can operate in harmony, contact our experts today at irene.jones@neeyamo.com.
From the desk of Neeyamo's editorial team.
Stay informed with latest updates
If you're curious and have a thirst for knowledge pertaining to the HR, payroll, and EOR universe, don't miss out on subscribing to our resources.