Blog Interview
The Influence of Employer of Record in International Business
Image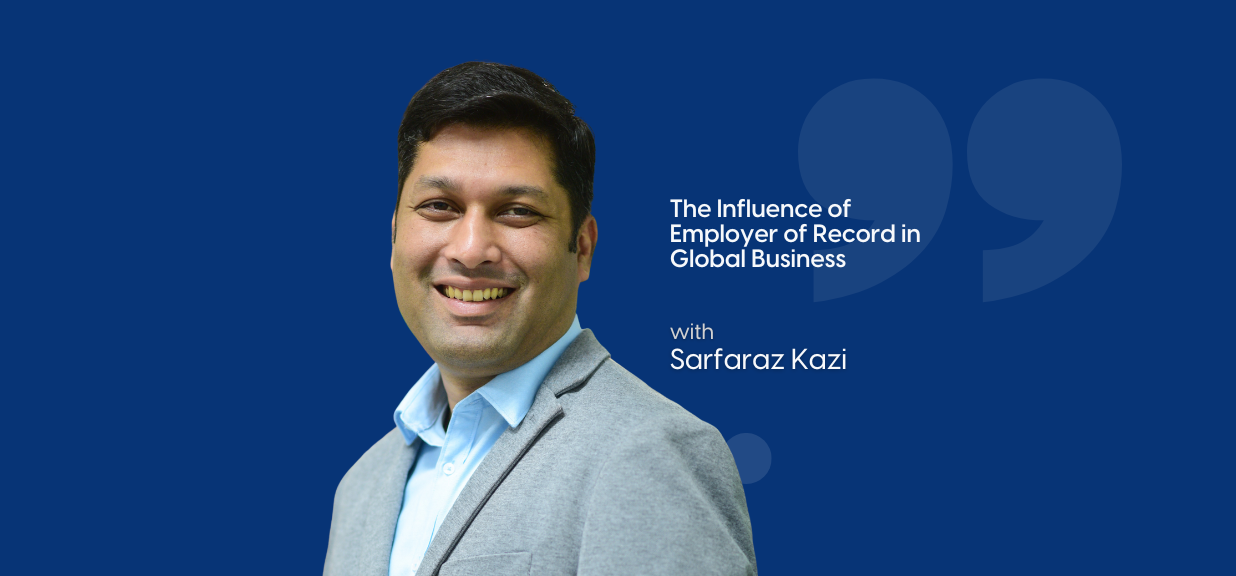 In today's business expansion landscape, companies are seeking to establish themselves globally in the most optimized manner. Here, Employer of Record (EOR) has made its presence known and is slowly but surely starting to become instrumental in playing a key role in global expansion. 
In the recruitment world, EOR has encouraged companies to go beyond traditional hiring methods and explore alternative models of employing global talent. It has now become a source of a global strategy that companies are gradually adapting to align their business goals with. 
Sarfaraz Kazi, Operations Manager – HR Enablement at Neeyamo, offers a glimpse into how this increasing popularity of EOR is transforming into a necessary tool in today's global talent acquisition and as a means of strategic alignment for companies worldwide. 
What is an employer of record? And what can companies expect when they implement an employer of record? 
Simply put, the Employer of Record is a global employment partner. Setting up a legal entity in any country takes a lot of time, money, and effort and is, therefore, not an easy process. What an EOR service provider essentially does is that it assumes complete responsibility as the legal employer without the client organization needing to set up a legal entity in that specific country. The EOR service provider handles all employment-related requirements such as onboarding, offboarding, employment contracts like payroll processing, benefits, employee support, and all statutory and regulatory compliances. 
In certain cases, the EOR service provider also assists in providing immigration support for expatriate employees and other statutory compliances that must be met as a legal employer in a particular country. 
This makes EOR the optimal solution for rapidly growing organizations looking to expand into newer markets and explore business potential before setting up a full-fledged entity. 
Also Read | Employer of Record: The best way to recruit remote employees 
What are some qualities to look for in an EOR provider? 
First and foremost, global coverage is paramount. The ability to provide services in a wide range of countries is essential to ensure that your organization can operate smoothly and compliantly worldwide. For instance, Neeyamo has an extensive network of over 160 countries, ensuring our clients receive reliable and comprehensive coverage. 

Secondly, service contracts must be clear and transparent. A well-constructed contract should outline all relevant commercial terms, including any potential hidden costs or fees that may arise. Additionally, it should clearly outline the risks and liabilities for the service provider and the client. 

Thirdly, a robust technology stack is crucial to support the delivery of EOR services. At Neeyamo, we utilize our global payroll tech stack to support our operations and deliver exceptional client results. 
Fourth, statutory compliance is non-negotiable. Any reputable EOR service provider must comply with all relevant employment regulations and requirements in each country of operation. This is critical to avoid legal and financial penalties and ensure that your organization operates in a compliant manner. 

Moreover, the experience of the EOR service provider's team is crucial. Having a highly skilled and knowledgeable team and dedicated support can help streamline administrative tasks and ensure that your organization receives the support it needs to succeed. 

Finally, data security and privacy protocols cannot be overlooked. EOR service providers handle sensitive employee and client data, making it essential to prioritize the highest levels of security and confidentiality. At Neeyamo, we adhere to strict data security protocols to safeguard our clients' sensitive information. 
In conclusion, selecting a reliable EOR service provider requires careful consideration of several critical factors. A provider with extensive global coverage, clear and transparent service contracts, a robust technology stack, statutory compliance, a highly skilled team, and rigorous data security and privacy protocols will support your organization's success. 
Also Read | We are a family! The Payroll and EOR Edition 
Do you think EOR services are better suited for short-term or long-term usage? 
Instead of looking at whether they are ideal for either the short or long term, I think that employing an EOR service provider can be an effective tool for assessing the risks and gaining insight into the intricacies of establishing an entity in a foreign country before actually moving forward with the process, particularly as the number of employees increases. 
Establishing a legal entity in a foreign country can be a complex and time-consuming process that involves navigating unfamiliar legal, regulatory, and cultural environments. Before committing significant resources to this process, it is crucial to conduct due diligence to ensure that the potential benefits of establishing a foreign entity outweigh the associated risks and costs. 
One way to conduct this due diligence is to work with an EOR provider. EOR providers offer services like hiring, payroll processing, tax compliance, and HR support, giving valuable insights into local regulations without committing to long-term investment. As the number of employees increases, EOR becomes more beneficial as it helps ensure compliance with specific legal requirements and manages the administrative burden of payroll, benefits, and HR compliance, freeing company resources for core business activities. 
What is your take on the role of EOR in today's recruitment world? 
The EOR model is revolutionizing global recruitment by providing companies access to top-notch talent worldwide. It has become especially crucial in the current climate of a global war for talent, particularly in technical and innovative spaces. The flexibility of remote work has allowed companies to scout for the best talent without being limited by geographical boundaries. The EOR model has provided a solution to bridge the gap in recruitment. 
However, while the benefits of the EOR model are clear, some challenges need to be addressed. One major challenge is keeping EOR employees engaged with the client organization's culture. In a traditional setup, employees are fully assimilated into the organization's culture, which helps to shape their career trajectory. However, the EOR model has a layer between the employee and the client organization, which can lead to a more transactional relationship. 
It is vital to engage with EOR employees to address this challenge constantly. At Neeyamo, we employ various strategies, such as regular communication, feedback collection, and dedicated points of contact, to ensure our EOR employees feel engaged with the client organization's culture. By doing so, we aim to minimize the adverse effects of the EOR model and maximize its benefits for both the client organization and the EOR employee. 
When should a company consider employing an EOR? 
When considering adopting the EOR model, businesses must carefully weigh the associated costs against the potential benefits to their business outlook and pipeline. For instance, if a client organization wants to expand into adjacent markets with the potential to succeed but lacks the necessary talent, it can leverage the EOR service model to acquire the required talent and explore newer markets. By doing so, they can save time and money that would otherwise be spent on setting up legal entities in those markets. 
At Neeyamo, we advise clients to approach the EOR model strategically by determining the logical point to transition from EOR services to their legal entities. This can help businesses to maximize the benefits of the EOR model while minimizing costs and mitigating risks associated with operating in foreign markets.  
To understand how Employer of Record can fit in to help your company's advancement, talk to our experts today. 
A content and marketing enthusiast who loves to create engaging stories that captivate audiences and drive business growth.
Stay informed with latest updates
If you're curious and have a thirst for knowledge pertaining to the HR, payroll, and EOR universe, don't miss out on subscribing to our resources.