Neeyamo's Shakil Gour Honored with Prestigious Global Payroll Titan Award by PayrollOrg
Image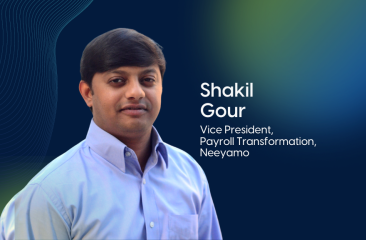 Pune, India
Neeyamo is elated to announce that Shakil Gour, Vice President, Payroll Transformation, Neeyamo, was awarded the highly coveted Global Payroll Titan Award 2023 during PAYO's fourth annual Global Payroll Titan award program.  
The Global Payroll Titan Award aims to honor and celebrate the achievements and contributions of global payroll professionals with a strong commitment to the global payroll industry and demonstrating excellence in processing multi-country payroll. 
More than 30 nominations were received this year after a two-fold evaluation process. It comprised the "People's Choice" voting segment and a thorough peer review by an anonymous panel of accomplished global payroll professionals. 
After meticulously assessing all nominees, Shakil Gour, who oversees a team of 500+ payroll professionals, walked away with the prestigious honor. 
Reflecting on this remarkable achievement, Shakil expressed profound gratitude, stating, "I am sincerely humbled and privileged to be the 2023 Global Payroll Titan. It is a compelling catalyst for me to explore the dynamic and rapidly evolving global payroll landscape. This award also represents Neeyamo's unwavering dedication to a technology-first approach to global payroll. To truly justify this honor, I am committed to giving back to the payroll community and contributing to its growth and advancement." 
About Neeyamo  
Neeyamo is a leading technology-enabled global payroll and EOR solutions provider for multinational and micro-multinational corporations worldwide. With an extensive team of professionals serving clients across 160+ countries, Neeyamo leverages its unique service-based model and functionality-rich, next-generation HR & payroll products portfolio to help organizations enable agile and scalable business. Ignite your payroll revolution and get to know more at www.neeyamo.com or send us an email at irene.jones@neeyamo.com.