Blog
Country Spotlight: Employer of Record in India
Image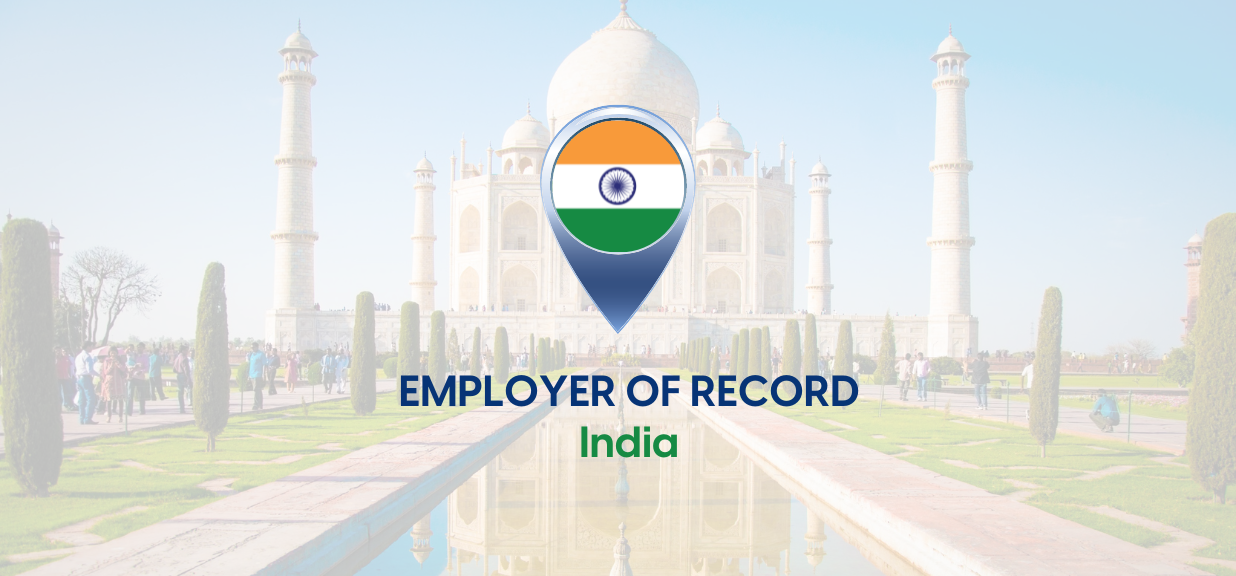 From snow-clad mountains to arid deserts, from bustling city crowds to quiet towns, India offers diversity in all forms.
With 27.3% of its population between the age of 15 and 29, the Indian market also provides a diverse talent pool for businesses. Ranked 37th out of 63 countries on the World Competitive Ranking in 2021, and a GDP growth of 6.3% in 2022, India is a global expansion hotspot.
But, for companies seeking to diversify their talent pool, setting up compliant subsidiaries in a country with 28 states may be challenging.
This is where Employer of Records (EOR) services step in to help organizations expand into India. They act as the legal employer of employees and take care of the process from onboarding to offboarding, including their employment contracts.
Hiring in India
The Indian Labor Laws do not have a strict hiring mandate, as most conditions depend on a company's requirements.
However, the intricacies come up during the onboarding process. While the requirements may be straightforward, companies must be wary of employment contracts. India is one of the few countries with government involvement in employment contracts.
Several laws govern employment contracts, such as the Indian Contract Act of 1872, the Industrial Employment Act of 1946, and the Contract Labour Act of 1970.
The Indian Labour Laws 
Apart from the laws mentioned above, the Indian government has started implementing labor codes, which consolidate and simplify the existing employment laws.
While multiple labor codes are specified, such as the Code on Wages, the Industrial Relations Code, and the Code on Social Security, state laws govern other critical aspects.
The minimum wages, for instance, vary from state to state. As of 2022, Kerala has the highest minimum wage for non-agricultural labor (Rs. 670 per day), and Maharashtra has the lowest with Rs. 130 per day. However, different wages are defined for different employment situations within the state.
You may also like| The EOR Glossary: Everything you need to know about EOR
As specified under Sections 51 and 59 of the Factories Act of 1948, an employee should not work for more than 48 hours per week or 9 hours per day. And, as per state laws, anyone exceeding these work hours is compensated twice the rate of ordinary wages.
The leave policy in India can also be tricky, as different leave schedules are followed at the central and state levels.
For example, public holidays like Republic Day and Independence Day are observed at the national level, in addition to region-specific holidays like Onam and Pongal. Other leaves, such as sick leave or casual leave, are as mandated by the state.
By the Maternity Benefits (Amendment) Act of 2017, female employees can avail up to 26 weeks of maternity leave. This was previously only 12 weeks.
Want to watch? Country Spotlight: India
As crucial as the onboarding process and employee management are, it is equally essential to ensure a smooth offboarding experience for employees.
Though the Industrial Disputes Act of 1947 specifies that employees should give a written notice of one month, the notice period varies according to the state or sector. For example, the notice period for employees in the IT sector is 30 days.
What can companies do?
Considering the several mandates and the compliance risk they pose, an EOR service provider who can efficiently manage employee onboarding and the subsequent collection of inputs like work hours and absence for accurate payroll calculation is a viable option for companies expanding into India.
Fortunately for businesses, Neeyamo's Global Work solution comes pre-integrated with configurable Time, Absence, and Compliance modules that ensure a seamless employer and employee experience anywhere around the globe. Combined with Neeyamo's Global Payroll solution as part of the Global Payroll Technology Stack, this solution offers substantial employee and payroll benefits. Reach out to us to gain more insights.
From the desk of Neeyamo's editorial team.
Stay informed with latest updates
If you're curious and have a thirst for knowledge pertaining to the HR, payroll, and EOR universe, don't miss out on subscribing to our resources.