Blog
Payroll Outsourcing: All you need to know
Image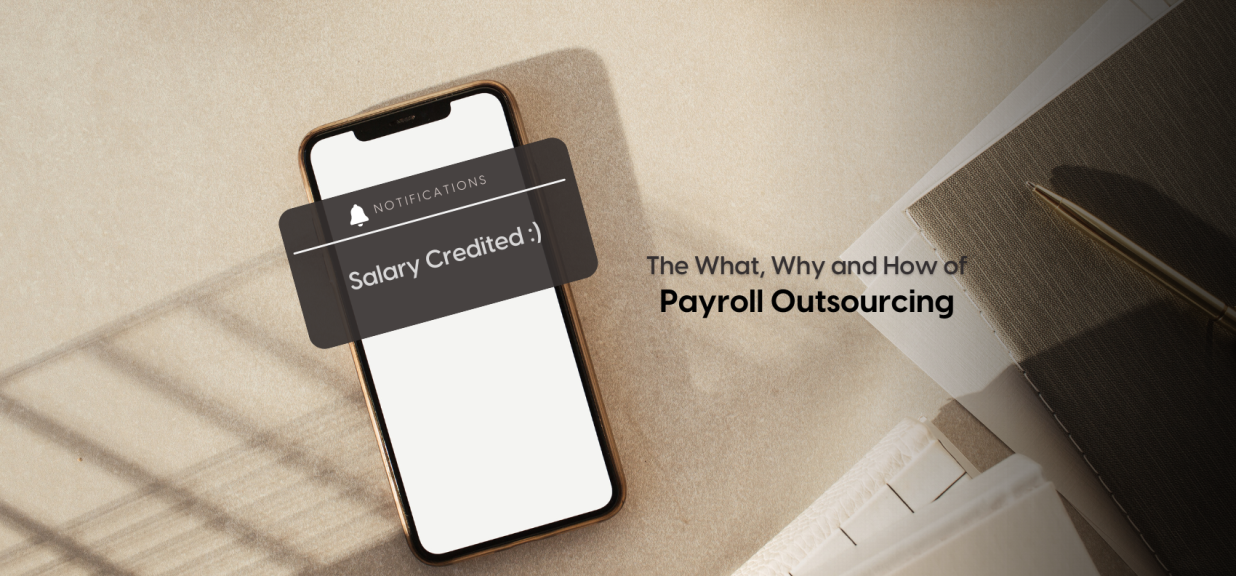 A survey by The Hackett Group found that outsourcing payroll can reduce costs by up to 25%, depending on the organization's size.
Processing payroll in-house might sound like the best option, but it can be time-consuming and take valuable time away from something more crucial to your business objectives.
From getting the employee information right to tax filing, health insurance, and a whole lot more, there is a need to get help with managing payroll, which brings a company that provides payroll outsourcing services into the picture.
You might also like: Common Payroll Challenges That Businesses Must Overcome
Why do companies outsource payroll?
Managing payroll without the help of a global payroll provider, especially when you have a large global footprint and continue to pursue global expansion, can be time-consuming. In a rapidly evolving economic landscape, cost optimization is critical as traditional operating models shift to gain access to newer revenue streams.
When experts, i.e., global payroll providers, are left to do their tasks, efficiency, and accuracy increase multi-fold. With the right payroll outsourcing company, you can reduce payroll mistakes, optimize payroll processes, and increase your focus on the organization's core functions.
Outsourcing payroll can also lead to enhanced data security and provides access to the latest technology and expertise that ensures you remain compliant with all the rules and regulations and avoid incurring fines or legal liabilities.
What is payroll outsourcing?
Payroll outsourcing is the strategic approach of engaging an external company to handle the comprehensive spectrum of payroll processing.
This encompasses executing accurate computations and prompt disbursement of employee salaries, precise assessment and submission of payroll taxes, efficient management of employee benefits, meticulous administration of employee onboarding and termination documentation, as well as other interrelated administrative duties.
DOWNLOAD: Global Payroll: 10 Trends that will be prominent in 2023
How does payroll outsourcing work?
Companies that offer payroll outsourcing services take over the responsibility of managing an organization's payroll processes. Here are the different steps involved in the process:
Identification: It all begins with identifying the scope of outsourcing, which is crucial because it determines the cost and time management, analyzes pain points, and optimizes it while also ensuring data security.
When considering a global payroll provider for outsourcing payroll services, it is important to identify which aspects of the payroll process align with the organization's requirements. This involves determining which parts of the payroll process will be outsourced to the provider.
Data collection: Once the payroll provider has been chosen, payroll input data needs to be provided. Although this was a manual process, it is now mostly done through an automated HRIS.
Set-up and processing payroll: Once the data has been provided, the pay cycle, employee benefits, and tax calculations have been configured, along with compliance to all the necessary local laws and regulations, comes the actual process of running payroll.
This will be followed by the generating several reports for various purposes, including accounting and compliance. Depending on the scope of the service rendered, they will also usually handle filing your payroll taxes and ensure you remain compliant.
How much does outsourcing payroll cost?
Gaining a comprehensive understanding of the payroll outsourcing process is only one aspect to be considered when deciding whether it is the appropriate course of action for your organization. Another important consideration is the question of "how much does it to cost to outsource payroll?"
The cost of outsourcing payroll is contingent on several factors, from the size of your organization and the number of employees to the complexity of the payroll process and the services rendered by the global payroll provider.
The fees charged for payroll outsourcing can vary significantly, ranging from a few hundred dollars for small firms to several thousands of dollars for multinational corporations with a global presence. While some payroll outsourcing providers charge a monthly fee, others have a flat fee, while others have an annual fee, usually based on the scope of services provided.
Additionally, supplementary charges might be involved, highlighting the importance of comprehending the terms of engagement before signing up with a provider. And while there can be no doubt that outsourcing payroll is a cost-effective solution, careful consideration of the associated costs is essential, along with comparing and contrasting industry benchmarks and various providers to select the best solution for your organization.
Finding the perfect provider for your organization
Finding the right payroll provider that can leverage technology to standardize and optimize your global payroll is crucial. Not only is it important to find a smart & secure system that processes your employees' paychecks, but it is vital that the payroll provider also provides a global framework and a peerless payday experience that reduces manual overheads and reduces processing time.
Neeyamo's single global engine, which lies at the epicenter of its ability to process payroll, provides an unparalleled advantage compared to other global payroll service providers that offer payroll outsourcing services. Our high degree of configurability also affords you the luxury of picking the right option that works for you.
Learn how to transform your payroll operations with a single integration-ready global platform and a triangulated compliance framework that provides round-the-clock support to ease all your payroll concerns. 
If you want to know more about Neeyamo can help you solve your payroll problems, reach out to us at irene.jones@neeyamo.com. 
From the desk of Neeyamo's editorial team.
Stay informed with latest updates
If you're curious and have a thirst for knowledge pertaining to the HR, payroll, and EOR universe, don't miss out on subscribing to our resources.