Blog
What is Digital Nomad Visa?
Image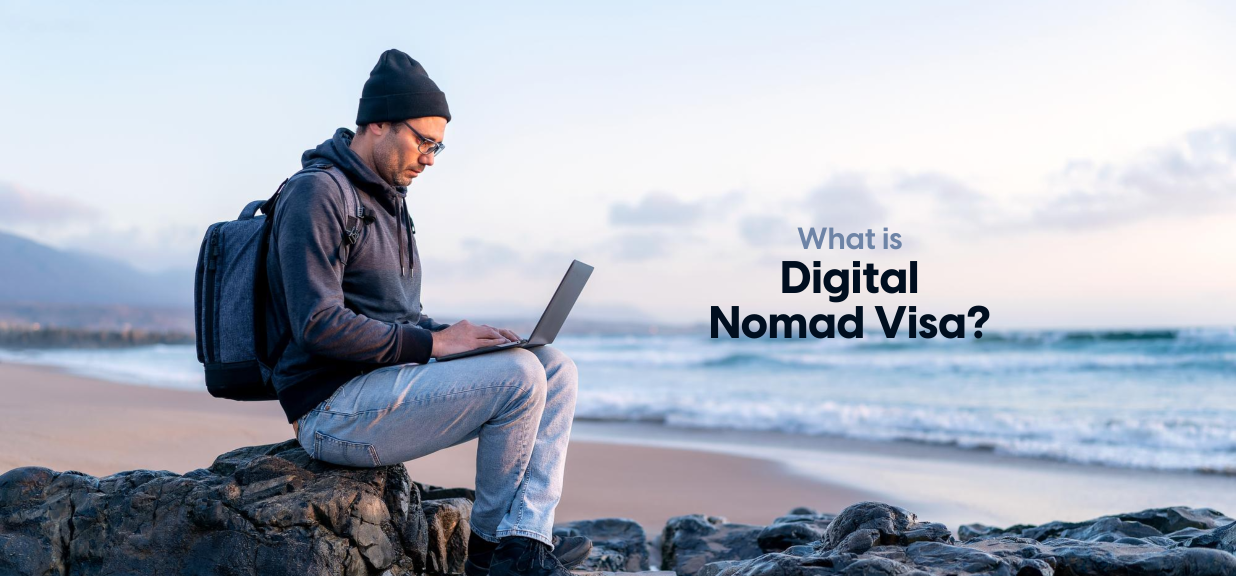 The onset of the pandemic prompted a surge in remote work culture. According to Mckinsey, 87% of US workers are still willing to take up the opportunity to work remotely, despite no other restrictions.
Digital Nomad Visa is a blessing for employees who desire to work remotely while traveling to different countries. It is a unique temporary residence visa that enables them to continue working remotely for an extended period.
The major difference between digital nomads and remote workers is that all digital nomads are remote workers. But vice versa may not be the same. Remote employees include those who work from home and may be available in the same city as their workplace.
Digital nomads, on the other hand, exclusively refer to those who travel to another country to continue to work remotely.
Why is a digital nomad visa needed?  
Employees require a visa to work legally in any country. However, a traditional work visa means an employee seeking a job in that country. On the other hand, with a digital nomad visa, employees can continue working in their current position in another country.
Tourist visas are usually short-term in nature. However, a digital nomad visa holder can legally live and work in a country for a specific time. Certain countries even allow employees to bring their family members or other dependents.
Digital nomad visas allow exploring the visiting country. For instance, employees can travel visa-free anywhere in the Schengen area if they procure a digital nomad visa for any Schengen country.
ALSO READ | Re-envisioning remote working post the Covid-19 pandemic
How to get a digital nomad visa? 
Employees who want to apply for a digital nomad visa must apply to the embassy or consulate of the destination country. The application process, issue duration, cost, and required documents vary depending on the destination country.
However, there are certain standard supporting documents that may be required to apply for a digital nomad visa, such as:
Valid passport
Proof of employment
Proof of income
And bank statement
What countries have digital nomad visas?
Currently, 37 countries offer a digital nomad visa, and 11 more are in the pipeline. The following is a list of a few popular countries that provide a digital nomad visa:
Spain: Spain offers a Non-Lucrative Visa, which allows self-employed digital nomads to live and work from there for up to a year.
Besides this, the Spanish government is also working on a startup visa scheme called the Startup Laws. Under this, remote workers can get temporary residence for 12 months and extend their stay to 24 months.
Canada: Canada does not have a digital nomad visa but offers three methods of immigration for digital nomads and freelancers: The Self-Employed Program, The Start-up Program, and the Provincial Nomination Program.
France: France does not have a digital nomad visa. However, it falls under the Schengen area, allowing remote workers to apply for a Schengen visa. This bloc includes 26 countries. Employees are allowed a stay of three months.
Estonia: Estonia was the first country to issue a digital nomad visa as part of its e-residency program as early as 2014. The Estonian government started this initiative to help foreign entrepreneurs with businesses based in the European Union (EU) streamline their company's operations.
In June 2020, it rebranded this as a digital nomad and freelancer visa that allows employees to work in the country for 12 months.
Latvia: Latvia's digital nomad visa is valid for a year and can be renewed for another year. However, this visa is only available for employees working for companies registered in OECD countries.
Digital nomad visas are also available in other countries like Costa Rica and Hungary (where it is called a white card). Malaysia was the most recent country to join the list. In several other countries like Italy, the process of issuing a digital nomad visa is in progress.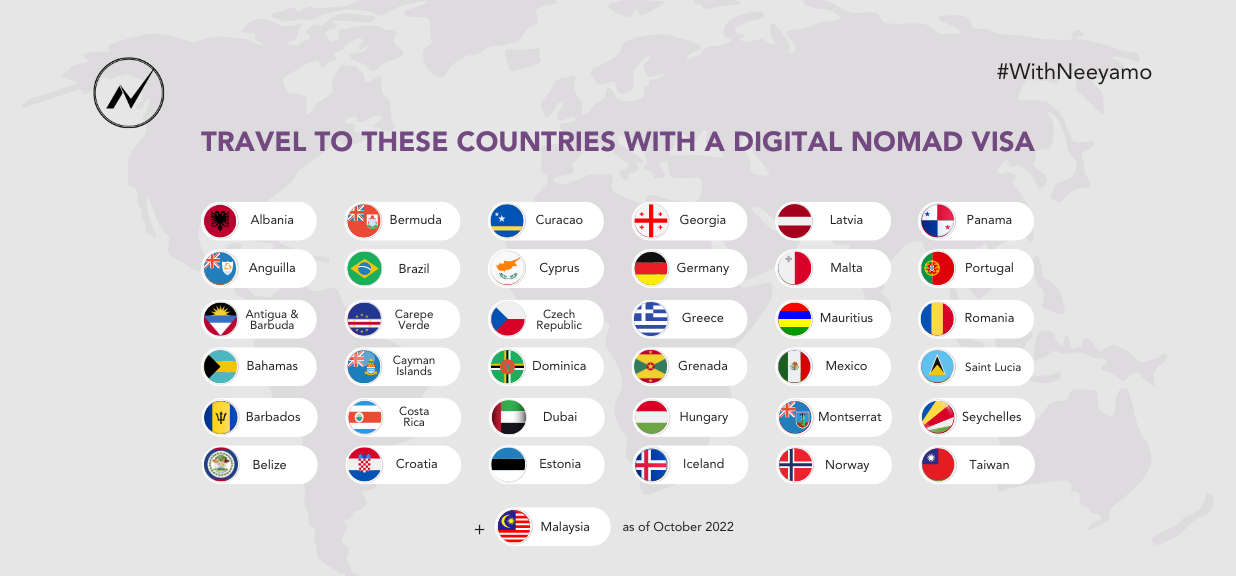 What else do you need to know?
Digital nomad visas allow employees to explore various countries and assess their employment options. However, there are a few things that employees should consider before traveling to a country.
Digital nomad visas come with an application fee which varies depending on the country. Some countries also have a minimum annual income as a criterion for visa application.
Employees should also assess the cost of living in the destination country before applying for a digital nomad visa. Countries in the Caribbean Islands, like the Cayman Islands and Antigua & Barbuda, have a low cost of living.
Despite this, digital nomads enjoy the perk of exemption from income tax in the destination country on their earnings. But they will continue to file tax returns in their country of permanent residence.
While remote employees welcome this initiative, companies may be apprehensive about processing payroll under regulations in one country with employees working in another.
Companies should now be equipped with an integration-ready time and absence system that is highly configurable with built-in flexibility and seamless data sharing across the payroll ecosystem. It must seamlessly apply absence and work hour policies depending on employees' location and prior corporate and collective agreements.
Let your employees see the world while we give you a hassle-free payroll processing experience. Our time and absence modules are natively integrated with Neeyamo Payroll. Prebuilt integrations and integrations emanating from Neeyamo's Global Payroll Technology Stack make a vast array of global integrations possible.
Reach out to our experts at irene.jones@neeyamo.com to leverage our Global Payroll and Global Work solutions for your business.
From the desk of Neeyamo's editorial team.
Stay informed with latest updates
If you're curious and have a thirst for knowledge pertaining to the HR, payroll, and EOR universe, don't miss out on subscribing to our resources.