Blog
What is Long-tail Payroll and the payroll challenges it poses to global organizations?
Image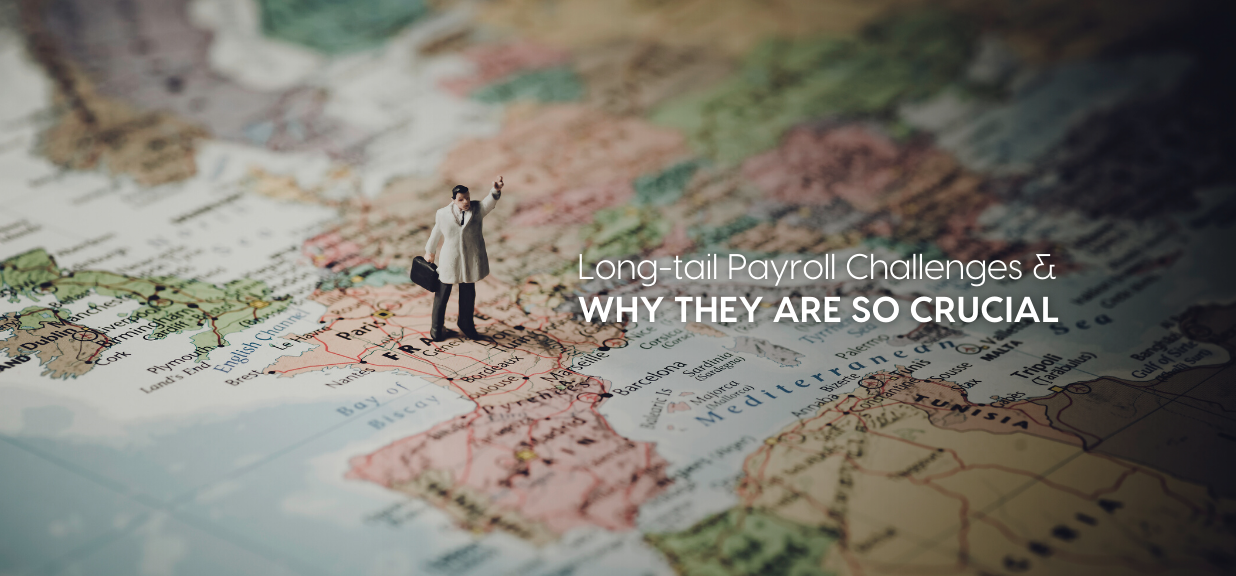 In today's fast-paced business landscape, where enterprises span continents pursuing growth, long-tail payroll casts a shadow on even the most ambitious global expansion strategies.
After all, an organization rarely boasts a workforce evenly dispersed across all its operational countries. The logic behind this setup is often at odds with practical business sense, ushering in the concept of long-tail countries.
Managing payroll for a globally distributed workforce presents a unique set of complexities. Especially in long-tail countries with low employee headcounts and often at the end of a company's expansion scope. This complexity makes long-tail payroll challenging, often posing difficulties for payroll providers.
ALSO READ | Top 7 Global Payroll Challenges
The most significant pain points usually associated with global payroll - compliance challenges, managing complexities associated with multi-country payroll, and inefficient processes, are accentuated when it comes to processing payroll in locations with low employee headcounts.
Let's delve into why promptly addressing these intricacies is crucial and explore strategic avenues to solve the puzzle of managing multi-country payroll.
Country-Specific Compliance Complexities
Wrangling payroll intricacies across borders is a labyrinth of complexities. Adhering to diverse tax rules and labor laws demands meticulous attention, accurate processing, and adaptability to varying regulations. The challenge amplifies when dealing with a dispersed workforce and a low employee headcount in each location. With added layers like multi-currency management and country-specific benefits, payroll becomes a high-stakes global puzzle.
Non-compliance not only results in penalties and fines that impact the organization's bottom line but also its reputation. Adhering to country-specific payroll regulations is not only a legal requirement but also a testament to the organization's commitment to ethical operations on a global scale.
DOWNLOAD | The Payroll Transformation Journey: Traveling Light in Long-Tail Countries
Weak business case to embrace a superior solution
The biggest challenge organizations face when processing payroll in long-tail countries is the high costs associated with it. When the workforce in long-tail countries remains exceptionally small, the outcome often involves elevated fixed costs per employee. Arising from both implementation and maintenance, these inflated costs lead to minimal or no assistance for local processes in these regions.
Consequently, the prospect of establishing a global payroll and HR platform catering to localized needs across the long-tail becomes a challenge due to these exorbitant expenses. Although decentralized in-house HR systems in long-tail countries can offer employee assistance, they fall short in capitalizing on economies of scale.
Fragmented and Dispersed Technology Landscape
Businesses are currently contending with fragmented payroll technology across various locations, creating a chaotic cacophony of disparate systems. Employing different solutions for each country's needs isn't the most effective approach for managing a global workforce.
Organizations opting to employ different country-specific solutions unwittingly create a fragmented technology landscape and create discrepancies and multiple data sets that are challenging to reconcile. Employees in different countries encounter different HR systems for various HR processes, including payroll Employee Self-Service (ESS), which leads to reduced satisfaction and a less cohesive employee experience.
This disconnect underscores the pressing need for a unified payroll ecosystem that offers streamlined solutions, especially in countries with a smaller employee count.
Inefficient Operational Framework
Creating the blueprint for international payroll excellence is no small feat. The challenge lies in sculpting an operating model that fits seamlessly across nations regardless of the workforce. Balancing centralization versus decentralization, defining roles, and aligning technology infrastructure are the pillars upon which streamlined, compliant, and scalable operations are built.
Global firms experimenting with in-house or traditional multi-country payroll outsourcing models often deviate from devising a strategic approach for their long-tail countries. That is a mistake, as companies must approach payroll operations strategically across long-tail countries to deliver consistent payday experiences to their employees. 
Inconsistent payroll practices across an organization can lead to divergent employee experiences. That is critical as most employees consider payroll interactions pivotal touchpoints that influence their perception of an organization.
YOU MIGHT ALSO LIKE: The Long-tail Blue Book
Lack of control and process visibility
Global enterprises often allocate fewer resources towards technology and streamlined processes for managing their sparsely distributed workforce in long-tail countries. This fragmentation within their technology framework can impede visibility into payroll and HR procedures, obstructing the assessment and enhancement of performance.
Insufficient insights into payroll operations across these varied locations can impede effective decision-making and proactive issue resolution. This dearth of visibility gives rise to a cascade of consequential issues, including compromised service quality and diminished employee engagement.
WATCH | Do long-tail countries pose a challenge in global payroll?
Within the expansive landscape of global business exists a distinct appetite for purpose-built solutions that adeptly address the intricate domain of long-tail payroll and HR.
However, the intricate complexity and burgeoning intricacies have deterred solution providers from making substantial investments to align with the unique requirements of long-tail countries. Despite the steadfast resonance of market demand, a conspicuous scarcity of solutions remains—an absence that underscores the necessity for offerings attuned to the nuanced dimensions of long-tail payroll challenges.
In direct response to this identified void, Neeyamo presents a robust and holistic long-tail solution. Our comprehensive approach effectively resolves the complexities of global payroll intricacies and instigates a transformative shift in long-tail payroll management.
With Neeyamo, you gain more than a global payroll solution; you gain a strategic partner who understands the nuanced interplay of dispersed workforces, intricate regulatory frameworks, and diverse pay structures. As we usher in the era of pragmatic long-tail payroll solutions, Neeyamo stands at the forefront, poised to guide and lead the way.
Ignite your payroll revolution and get to know more at www.neeyamo.com or send us an email at irene.jones@neeyamo.com.
From the desk of Neeyamo's editorial team.
Stay informed with latest updates
If you're curious and have a thirst for knowledge pertaining to the HR, payroll, and EOR universe, don't miss out on subscribing to our resources.