Blog Interview
Understanding the Digital Nomad lifestyle with Ali Greene
Image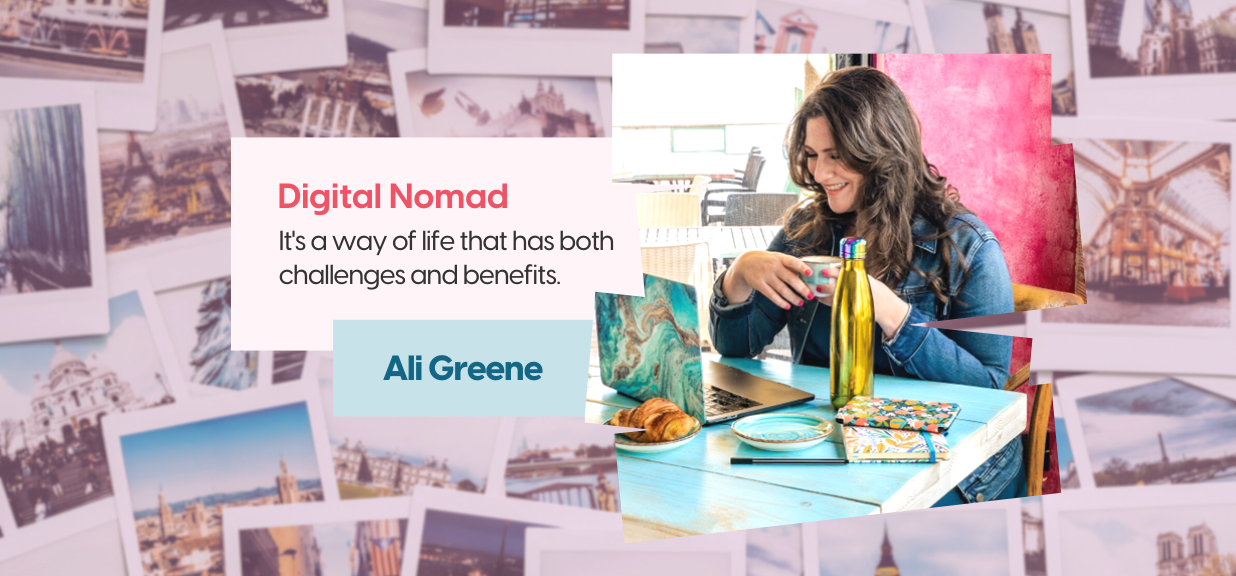 Work models have become extremely flexible, and work from home has evolved into work from anywhere. This gave rise to the Digital Nomad Lifestyle, which has evolved from a trend to a major factor weighing global expansion.
Countries are offering special work visas, called Digital Nomad Visas, for employees who prefer remote work, enabling them to continue remote work while traveling to different countries.
Also check out | What is Digital Nomad Visa?
While the idea of being a digital nomad excites employees, hesitation sets in when questions like "Where to begin? How to proceed? How to manage work and travel?" arise. Ali Greene, Co-Founder of Remote Works, has shared her experience as an avid digital nomad, which gives a clearer understanding of the lifestyle.
How did you become a digital nomad?
Being a digital nomad is a label I slowly identified with. In 2014, when I worked in L&D for an advertising agency in New York, I traded Madison Avenue for Machu Picchu, and my eyes were opened to a new way of living, working, and traveling.
After that trip, I spent years fully transitioning to a Digital Nomad lifestyle while also serving on DuckDuckGo's leadership team as the Director of People Operations. I would go on trips for a few weeks and work remotely, then a few months, and finally, at the end of 2017, I began traveling full-time. I've slowed my travels in recent years while still spending the majority of my time abroad; professionally, I've also taken on new challenges as the co-founder and co-author of Remote Works Book and our associated consulting and workshops.
According to you, what are the benefits of being a digital nomad?
Being a digital nomad has benefited me personally by allowing me to meet so many amazing people and have incredible learning and life experiences. While traveling as a nomad, I met both my business partner and my romantic partner, and those connections are irreplaceable.
Professionally speaking, you must acquire a diverse set of skills to live your life and get your work done as a digital nomad. Digital nomads develop autonomy, self-reliance, prioritization skills, creativity, and humility through constant change and new experiences, which are valuable assets for any company to have in an employee regardless of their role (and for any person, really!)
Have you faced any challenges as a digital nomad?
Yes, all the time! I dealt with culture shock, reverse culture shock, language barriers, poor WiFi, isolation, and missed flights and trains. People believe this lifestyle is "lucky" and consists of working on the beach and other glamorous Instagram moments, which it does not. It is a way of life that has both challenges and benefits. For me, the benefits far outweighed the challenges, which ultimately shaped me into the "Ali" I am today.
Being a digital nomad is not easy. It is evident from Ali's experience that it is not always sunshine and beaches. But this lifestyle is here to stay and will be a part of the future work models.
Get expert guidance at Neeyamo regarding global workforce management with insightful resources and Global Payroll Tech Stack-powered Global Payroll and Global Work solutions.
From the desk of Neeyamo's editorial team.
Stay informed with latest updates
If you're curious and have a thirst for knowledge pertaining to the HR, payroll, and EOR universe, don't miss out on subscribing to our resources.