Blog
4 Reasons Why Global Payroll is the bedrock of EOR
Image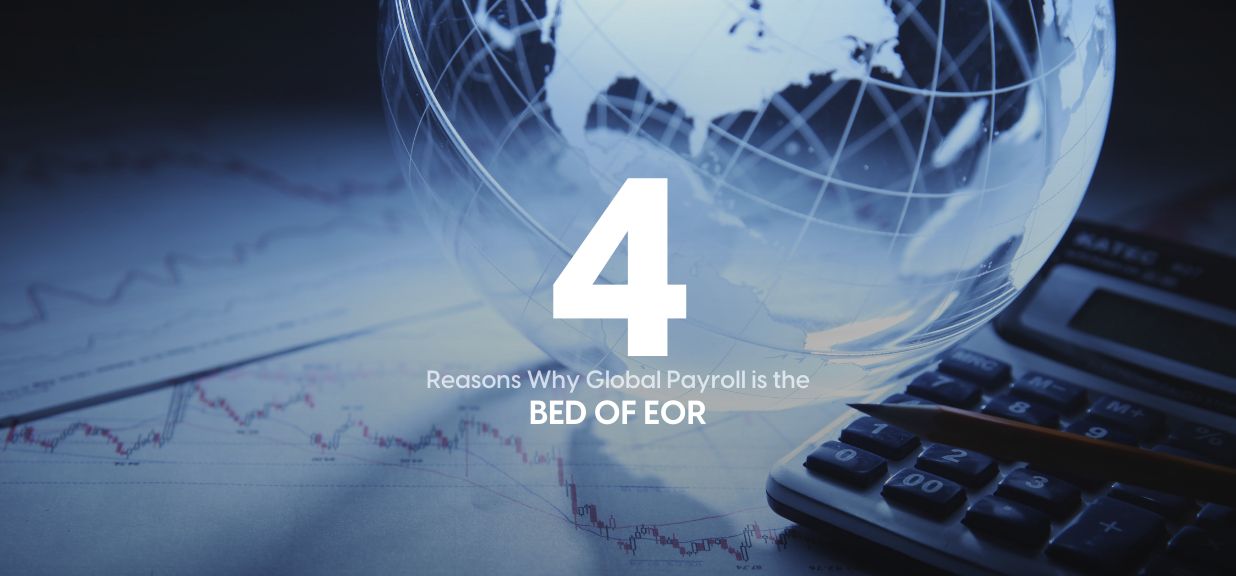 Recent analysis indicates that remote work is here to stay. By the end of 2022, 25% of all professional positions in North America will be remote, and opportunities for remote work will continue to increase through 2023.
With the increase in remote work, accurate reporting and local labor law compliance are among the many aspects that factor into payroll calculations.
Enter global payroll, the bedrock of Employer of Record, a process in which a global payroll partner is contracted to look after the remote hire's payroll, compliance, and other international employment decisions that correspond to the local government regulations.
Let us look at some benefits of using a global payroll partner to pay international employees.:
1. Stay compliant on a global scale
Getting your mind around local labor rules may be challenging, and it only gets more difficult as you hire people from multiple countries. However, with a competent EOR, you can enroll people in dozens of countries with minimal additional effort. Your global payroll partner will guarantee that you comply with all legal obligations and keep you up to date on changes in local regulations.
2. Reduce payroll-related expenses
Working with a global payroll provider can help you save a lot of money. Recruiting in-house personnel to manage endless paperwork, salary and tax computations, benefits administration, legal counsel, and payment processing is unnecessary. With your EOR managing all your payroll obligations, your HR staff can focus on building a positive atmosphere for your global workforce.
3. Strong data security
When an external company manages end-to-end procedures, any payroll, HR, and finance department disparities are immediately resolved. An outsourced global payroll solution might be advantageous if your organization strives to enhance internal controls or standardize operations across several countries.
4. Minimize payroll mistakes and boost employee satisfaction
When an organization has a problem with administration, most employees are understanding. When it comes to payroll errors, though, they are rarely patient. People throughout the world expect to be paid correctly and on schedule. You can reduce problems and provide the payroll experience your employees deserve when you have a dedicated global payroll specialist managing payroll.
5. Planning to look for an EOR service provider? Your organization should consider asking the following questions
– Does the payroll partner have their local entities in each country where you are looking for employees?
– Does the payroll partner have the required legal knowledge of the local areas?
– Can the partner manage contractors and employees on the same platform?
– Is there a percentage of salary, onboarding costs, or any other fees the payroll partner would deduct?
Are you looking for a quick and easy way to onboard international employees via a leading global payroll provider? Look no further than Neeyamo.
From the desk of Neeyamo's editorial team.
Stay informed with latest updates
If you're curious and have a thirst for knowledge pertaining to the HR, payroll, and EOR universe, don't miss out on subscribing to our resources.