Blog
4 Strategies Critical to Implementing a Successful Hybrid Work Model
Image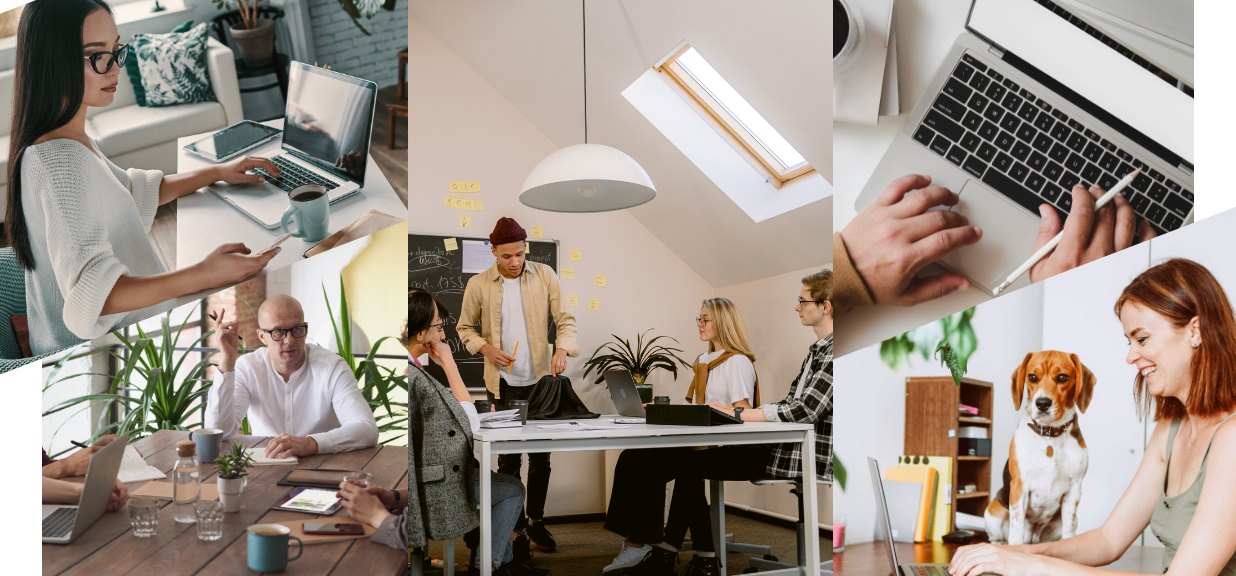 If you rewind a few years and ask someone to picture an office setting, the answer would have been the same from anyone – a person slogging away at their desk in a cubicle.
Fast forward to present, that single answer has now developed into options. It's extended to either a few people present physically in the office while the rest work from home or a complete work-from-home situation.
However, the former has gained rapid popularity as 52% of employees have preferred hybrid work models. 
This has prompted the rise of various works of literature, including a book (Redesigning work: How to transform your organization and make hybrid work for everyone) by Lynda Gratton on an ingenious 4-step framework to transform the way organizations work in the hybrid model. 
Also Read: Impact of various work models on employee productivity 
Will the hybrid work model last? 
Hybrid work is a reality that firms are coming to terms with gradually. With so many strategies for hybrid work emerging, it's no longer a question of if but rather how: 
How will this change the work dynamics? 
How fruitful will this work model prove? 
And most importantly, how effectively can firms implement this? 
Large MNCs like Google, Microsoft, Meta (Facebook), and Amazon are setting themselves up as good examples of leveraging hybrid work models in the corporate world.
Best Practices for Hybrid Work Model 
As convenient as this model may sound, it has its limitations. Therefore, it is important to implement techniques that will result in its most optimized use. Here are some steps you may consider to ensure that you are making the most of the hybrid work model as an organization:
Plan and schedule the number of remote and in-person employees 
"Before anything else, preparation is the key to success." – Alexander Graham Bell
This is the first and most important step to implementing a hybrid work model. Employers must design a plan that splits employees into equal numbers and anticipates their working timeline. They must be allotted equal turns in the work environment.
Not only does this provide an opportunity for alternate experiences of work models for all the employees, but it also gives them an insight into the struggles faced on both ends and empathize when a difficult situation arises.
Provide flexibility to on-site employees and structure to remote ones 
Prior to the pandemic, offices had a fixed structure for all employees to work in. Remote working cracked that foundation and proved 47% more productive for employees than in the traditional office setting. But it had its share of downsides, given how much of an isolating experience it could be. Another bitter truth about working remotely is that your work might get overlooked even if you burnt the midnight oil to get it done. 
When a business opportunity shows up, people in leadership roles will likely pass it on to employees in their line of sight. Therefore, on-site workers have the edge over remote workers in benefiting from upward mobility. 
On the other hand, people who logged in physically from the office gained better social and break gratification, but the same could not be said about their productivity and expenditure. 
Armed with the complexities on both sides, organizations should provide considerable flexibility to in-office employees and a systematic work structure for remote employees to contribute effectively. 
Establish clear communication 
The people working remotely are often the last to be informed in the communication loop. 
Before sending out any information, have a clear idea of the message and list all the people who should be informed. Water cooler conversations might even be a way of notifying those at the office, but organizations must know that those working remotely don't enjoy the same privilege. Therefore, every concerned party must be privy to the information and not feel left out. 
Encourage Employee Engagement Activities 
The proximity principle has taken a fall with the pandemic. For those of you wondering, it is the tendency to form close relationships with the people who are nearby and meet almost every day. 
The importance of workplace friendships cannot be missed seeing how 57% of employees have claimed having a close friend in the workplace makes it more enjoyable. 
Fostering a culture of belongingness should be one of the top priorities. Therefore, employers need to come up with fun activities that can help maintain this bond.  You can try the following to keep your employees connected: 
Consider planning and sponsoring offsite meet-ups in a friendly setting for employees to engage with their co-workers.  

Small steps go a long way. Companies can engage in an appreciation game where employees are sent a name, and they must send a small paragraph describing them and cherishing them for being here.  
When all is said and done, hybrid work can indeed look like an uphill battle for companies. Keeping track of their movements can be daunting, with employees alternating between working at home and the office. 
But here's the secret: half of that battle depends on the technology you employ that can help monitor the right work hours, regardless of the environment people work in. 
By exploring a modern time-tracking solution for your global workforce, you can not only improve your security and controls but also effectively reduce manager overhead. 
Know more about how you can simplify HR by managing your employees' time seamlessly. 
From the desk of Neeyamo's editorial team.
Stay informed with latest updates
If you're curious and have a thirst for knowledge pertaining to the HR, payroll, and EOR universe, don't miss out on subscribing to our resources.