Blog
The EOR Glossary: Everything you need to know about Employer of Record
Image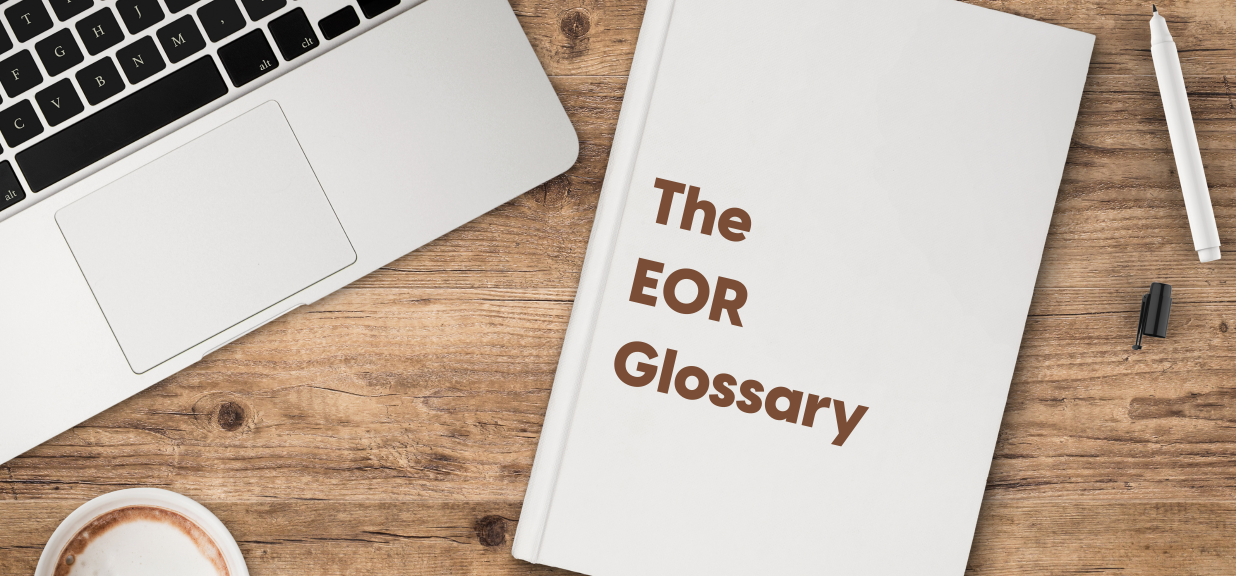 Establishing a global presence has become a mandate for any organization. Gaining access to international talent is a step towards exploring the global market. Employer of Record (EOR) service providers help companies take this step.
With the increasing popularity of EOR, it has become easier for companies to hire international workers without establishing a legal entity in that country.
Here is a glossary of terms that will help companies understand EOR, what to look out for, and enable them to look for a suitable service provider:
Attract talent with EOR. The competition to acquire top talent is fierce, and the quest to find the right fit extends worldwide. EOR helps companies go beyond geo-boundaries when it comes to hiring international talent.  
Background Screening is an integral part of the hiring process. While EOR service providers may not offer background screening, this is something that companies should keep in mind while hiring globally.  
Compliance risks are abundant at the global level. The right EOR service provider will ensure adherence to employment laws and contracts. There are also other obligations like health insurance and pension contributions that vary across countries and sometimes even different regions within a country. As a result, it is crucial to keep track of the laws governing them.  
Also read | What is Employer of Record?  
Data security is a crucial aspect that companies should be aware of before entering the global arena. Any employee information should be protected and stored securely. Any form of data breach can have severe consequences for the company. EOR service providers must be wary of this while handling employee data and data transfer.  
Employee experience is essential throughout an employee's lifecycle with a company. EOR solution providers should be aware of this and ensure a positive employee experience from onboarding until termination.  
Global expansion is the primary objective for companies worldwide. While companies have the option of Professional Employer Organizations (PEO), EOR is rising in popularity courtesy of being a cost-effective option that prioritizes employee experience. While both options exist, it is important for companies to be aware of the differences between EOR and PEO and find the right fit for the organization.  
Also read | EOR vs. PEO – What is the best fit for your organization?  
HR processes are often looked upon as monotonous documentation. However, for international employers, it includes management of immigration, local statutory compliance, onboarding, and training. This is where EOR service providers step in. They take responsibility for HR processes and employee support, while the companies can focus on day-to-day operations.  
Legal entities in the destination country are not required now! With EOR, the client company can legally recruit from any country. The EOR provider will be legally responsible for that employee, handling all supporting processes.  
Onboarding and Offboarding can be challenging for companies without a legal entity in a new country. The right EOR provider simplifies these processes affording the client company more time to strategize their expansion effectively. A proper onboarding and offboarding process helps companies mitigate risks, prevent legal issues, and provide a smooth transition for both parties.  
Payroll and EOR go together. EOR handles HR processes. But an EOR provider equipped with a solution to take care of employees' payroll, taxes and benefits would be highly beneficial as it will ensure accuracy in payroll processing and be cost-effective for companies.  
Record retention is an indeterminate territory. Employees submit various documents during their time with a company. EOR providers must be cognizant of the different data retention policies to prevent breaches or compliance violations. 
Also read | How long do companies keep employee records?  
With multiple facets in EOR, companies must have a single solution that caters to all their needs.  
Neeyamo's Global Work solution helps companies manage their international workforce with ease. This solution allows customized workflows for each company's size and specific requirements.  
Equipped with modules like Compliance, Onboarding, and Offboarding, Neeyamo's Global Work is the future of EOR. Armed with Neeyamo's Global Payroll Tech Stack, which powers the Global Payroll solution. Companies are provided a holistic payroll and EOR experience.  
For more insights, reach out to Neeyamo's experts at irene.jones@neeyamo.com. 
From the desk of Neeyamo's editorial team.
Stay informed with latest updates
If you're curious and have a thirst for knowledge pertaining to the HR, payroll, and EOR universe, don't miss out on subscribing to our resources.