Blog
The glamourous world of Global Payroll – A career to tread on
Image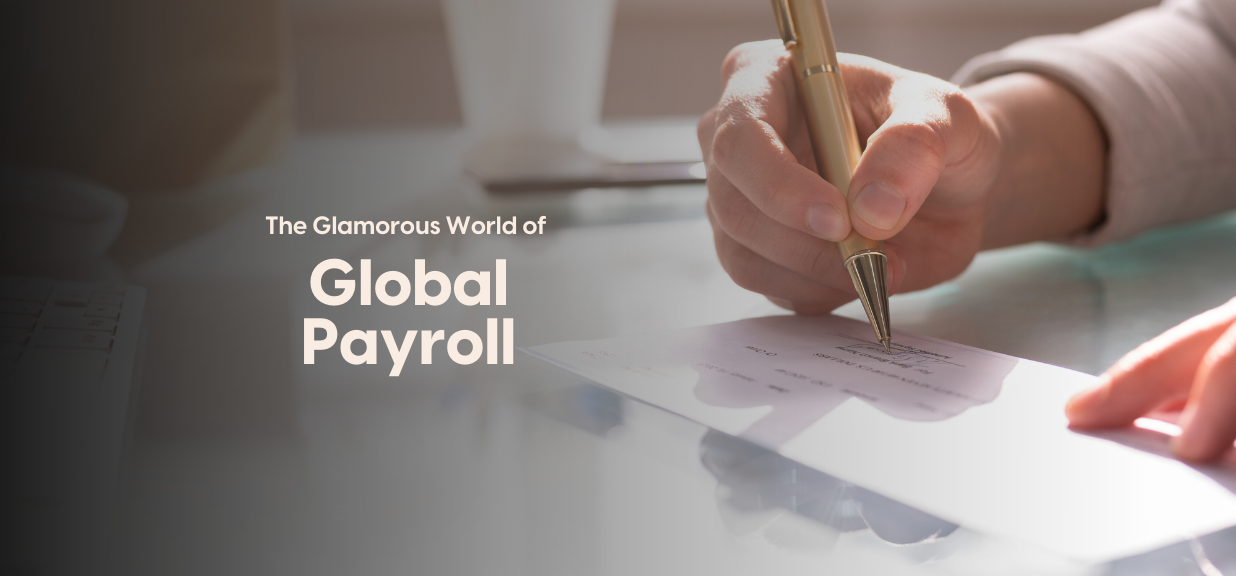 "$2000 credited to your bank account on 30-Oct-2021" – The typical message that brings a smile to millions of employees worldwide. So how does your salary get all the way from your organization's pay register to your bank account? – Have you ever given this a thought?
Employers are expected to pay the right salary to the right employees at the right time while ensuring that they adhere to native laws and local compliance regulations. Providing timely payment to all employees is of paramount significance, as it is a key contributing factor that aids in delivering a superior employee experience. As corporations are going global and stepping outside of their domestic boundaries to expand their businesses, it becomes essential to have a function that takes care of all employees' compensation & rewards, especially when its employees are dispersed globally. This is key to ensuring timely salary and paychecks. Of course, there are many professionals who make this job easier for organizations. We call them payroll specialists, payroll managers, compensation managers, etc. But as organizations are going global and expanding their footprints over newer territories, what was earlier referred to as 'payroll' has now transformed into 'global payroll." And over time, this has now transcended to one of the highest paying and 'in demand' jobs.
When a company has its operations spread across multiple countries with a scattered workforce, it becomes expensive and relatively complex to process payroll in-house. They would need to hire payroll specialists who have a deeper understanding and knowledge of managing cross-border payroll. This continues to be a challenge for the vast majority. As every region has its own regulations, acts, and compliances to follow, it becomes complicated for in-house payroll experts to keep track of them. Non-compliance to local laws can result in organizations facing severe penalties. These are some of the critical factors that drive businesses to outsource their payroll.
Global Payroll is a growing industry. A global payroll manager makes an average of 120,000 USD a year, and as you gain the right experience, your salary is bound to skyrocket. A career in international payroll has started to gain momentum recently as global payroll is no longer seen as an accounting/finance or HR function. It has gained significance and is one of the strategic functions managed by C-Suite executives. Depending on the complexity, global payroll transformation projects could cost an organization anywhere upwards of 10$ million dollars in addition to the time and effort from the core team involved in the engagement. A smooth and robust global payroll solution ensures that all your global processes remain aligned, standardized, and optimized.
So what are the attributes that one needs in order to be a successful global payroll manager?
Communication skills- As you'd be interacting with many HRBPs, finance, accounting, IT experts, and key stakeholders from your organization around the world, communication is critical. One should possess excellent communication skills to be a successful global payroll leader.
Project Management Skills – Outsourcing payroll is a critical project that organizations undertake. Transitioning to a new solution or working with the service provider on a global scale presents numerous hurdles, and bringing a solution to life in places necessitates some critical project management and implementation skills.
Adapting to technology- With technology having established its presence in every function and sphere, payroll and HR have been in the limelight for over a decade now for their rapid technology adoption. Payroll is no more excel uploads and recording data. AI, Middleware, RPI, Automation, Cloud, and other technologies are now at the forefront.
Knowledge- A global payroll manager is the process owner for all the countries that the organization runs payroll for. They should learn and possess subtle understanding and knowledge about compliance, technology, transition, integration, and a more profound understanding of the challenges along with factors that influence global payroll decisions.
With a vision to change and transform the global payroll space, Neeyamo is organizing a massive Summit titled 'Payroll Beyond Borders' on January 20 & 21 to educate and spread awareness about the complexities, learnings, and newer trends witnessed in the world of global payroll. The event will also feature a 100 country knowledge repository that will preview the intricacies of running payroll in each of the countries listed.
Join us for 'Payroll Beyond Borders' and learn about the evolving role of global payroll among multinational organizations. Click here to register.
From the desk of Neeyamo's editorial team.
Stay informed with latest updates
If you're curious and have a thirst for knowledge pertaining to the HR, payroll, and EOR universe, don't miss out on subscribing to our resources.