Blog Interview
HR Tech Enabling Seamless Transition to Future of Work
Image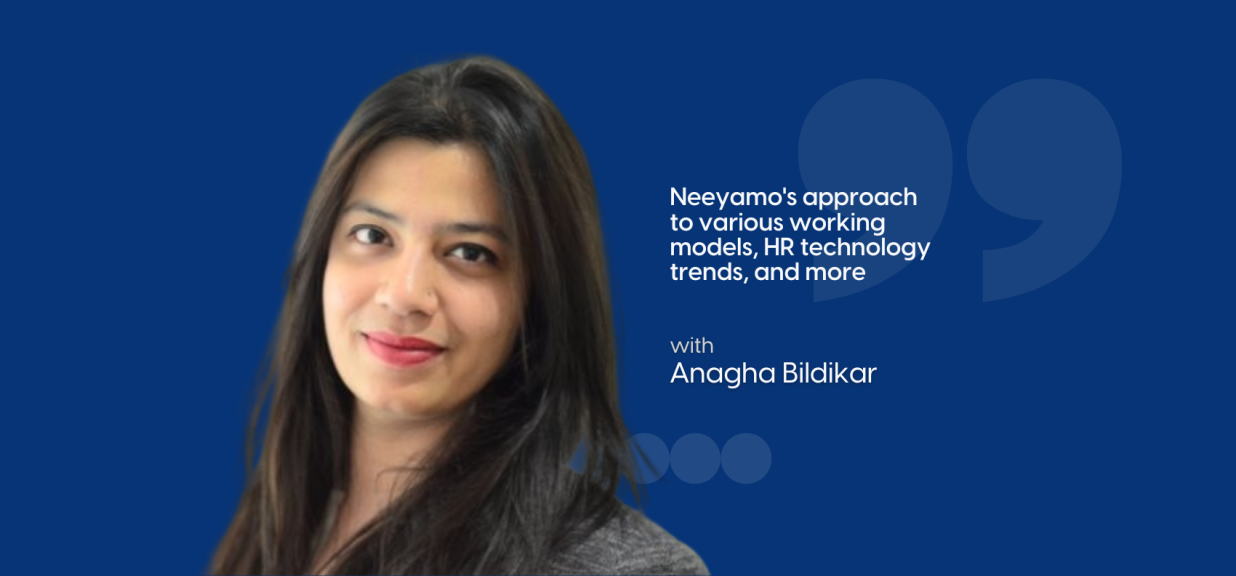 The future of work is constantly evolving. Fueled by path-breaking technological innovations and changes in the business landscape, which are further exacerbated by the global pandemic, working models are in a state of continual dynamic flux.
In a candid conversation, Anagha Bildikar, Vice President, HR Enablement, Neeyamo, shed light on the organization's approach to various working models, employee experience, HR technology trends defining the future of work, and more. 
Here are a few excerpts from the interaction: 
How would you describe Neeyamo's approach to the different working models throughout the pandemic?  
While we did try the work-from-home model, we have predominantly returned to the work-from-office model. Returning to the office has made collaboration and coordination more efficient. There is evidence of enhanced mental well-being among employees following the implementation of a physical work environment intervention that promotes social interactions. 
We understand that working models significantly impact mental health and employee experience and remain aware of employee welfare as we pursue our business goals. 
We remain flexible and observant as we closely monitor the markets to ascertain the long-term impact on organizations adopting WFH, Flexi, or hybrid working. While there will be a mix of positive and negative effects, we don't want to jump on the bandwagon just yet. We will continue to consider the consequences and tendencies of current market developments when making long-term decisions. 
ALSO READ | Impact of various work models on employee productivity
What are the most significant trends that have impacted HR technology? Are there any future trends we should look out for? 
More than a trend, I would say that we have witnessed a fundamental shift in mentality that has dramatically impacted businesses. Pre-pandemic HR tech was considered a cost to the company or a luxury that only mature organizations, ahead of the curve, had the finances and time to spare, would adopt. Due to the evolution of remote work practices and the increasing scope of operations, organizations have realized that HR technology is not a luxury anymore but a need of the hour.  
Achieving business goals through technology is no longer the exception but the rule. That is why we see a spurt among companies now opting for HR tech. Organizations have realized that sound HR systems are needed to manage the workforce efficiently and contribute to their business objectives. Some global organizations are even taking it a step further and offering options for work from any country to their workforce.
For instance, if your partner moves to Sweden, you can work from there. The changing work environment has led to HR technologies being the backbone of managing the workforce, payments, and performance, among other HR processes.
For Neeyamo, this is great news because customers are now increasingly aware of the need for HR technology and its benefits.
DOWNLOAD | 10 Tips to ensure remote work compliance
Aside from the shifting mentality towards HR technology, do you foresee any specific technology impacting the industry?
Conversational AI is something that a lot of product companies are exploring. It combines various models through AI, Robotics, and chatbots, making it smarter and enabling effective consumer interaction with products.
In the HR industry, it is more complex to deploy successful AI models than in some other sectors, where you can use AI to assist with straightforward binary responses. In the HR & Payroll industry, responses to questions that might appear similar could yield different answers, depending on the employee's eligibility, situation, and exceptions. So, traditionally, the industry has found it hard to integrate AI seamlessly to help function more efficiently. 
What does the future hold for Neeyamo? 
Neeyamo's transition from a global payroll service provider to a global payroll technology provider is one that I find particularly compelling.  
This transition represents a fundamental shift in the perception of the global payroll industry. This model offers numerous benefits to employees and their organizations, creating a multifaceted impact.
One of our key goals is to make jobs smarter and more fulfilling for our employees and, through them, ensure we positively impact our clients and, invariably, their employees. We focus on providing value-added upskilling opportunities that we believe will positively impact an employee's professional growth and career trajectory. 
Srihari heads the editorial team at Neeyamo and has over six years of experience in journalism, public relations, and social media.
Stay informed with latest updates
If you're curious and have a thirst for knowledge pertaining to the HR, payroll, and EOR universe, don't miss out on subscribing to our resources.