Blog Interview
International Women's Day 2023: The impact of technology
Image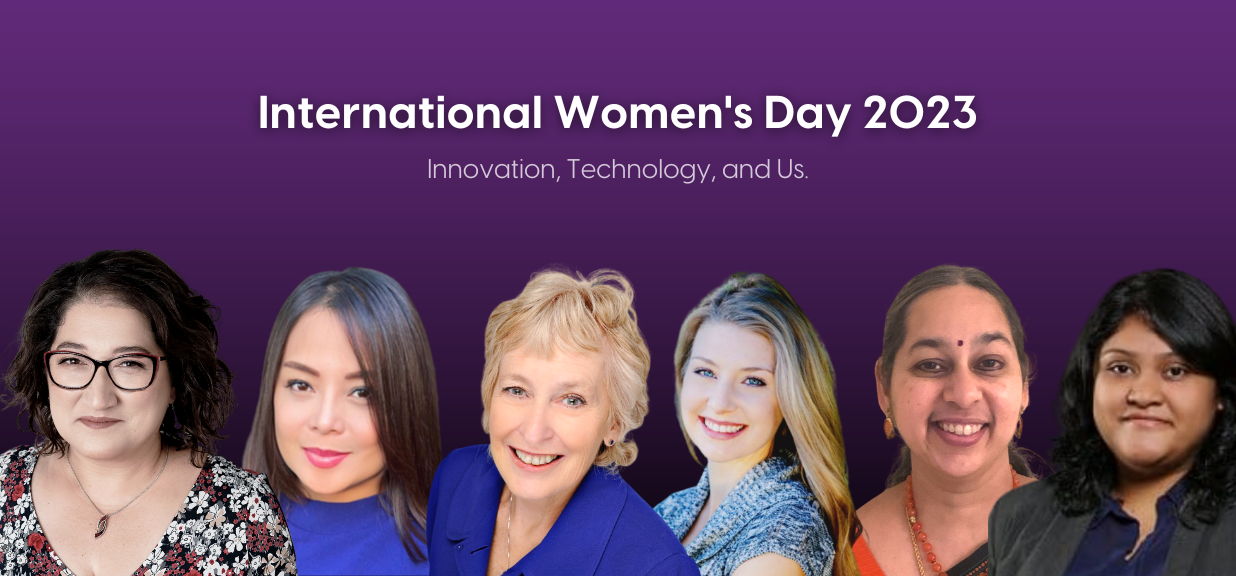 Strong, independent, and exuding love and comfort, women are a crucial part of our society. And they have walked a long way and fought several battles to enforce gender equality and bridge the gender gap.
And, every year on the 8th of March, to celebrate them and their achievements, to voice their concerns, to appreciate them a little more than usual, and renew our commitment to advancing and touching every woman's life, we commemorate International Women's Day.
This year's theme, 'DigitALL: Innovation and Technology for Gender Equality,' highlights the importance of technology in eliminating discrimination, as well as the role of women in the field who have taken up the responsibility to harness technology and break down the barriers that are imposed on them to promote gender equality.
See what women at Neeyamo have to share:
We are still exploring the digital space and looking to expand. With that uncertainty also comes the threats. Much like the physical space, the digital space has also, unfortunately, not been a completely safe environment.
In light of that, we reached out to some of the leaders of the HR and Payroll industry to voice their thoughts on how technology can be leveraged to create a safe digital space for women: 
Amy Waninger, CEO at Lead At Any Level
Creating safe digital spaces for women is crucial to ensure their participation and empowerment in the digital world. Women face various forms of harassment, trolling, cyberbullying, and hate speech online, which can impact their mental health, self-esteem, and even physical safety.
To create safe digital spaces for women, adopting a multi-faceted approach that includes robust policies and regulations, strong enforcement mechanisms, and active engagement and participation of women is important. This can be achieved through awareness campaigns, education and training programs, and by promoting content that respects intersectionality by recognizing all women don't have the same access, experiences, or opportunity. It is also important to ensure that women have access to legal and other support mechanisms to combat online harassment and abuse.
Fabi Carino, Country HR Director at Medrisk
The prejudice against strong women stems from centuries of gender roles, which are designed to ensure that they remain in their customary place.
In this age where digital technology is a powerful tool, it is time for more women to lead by example and speak up for themselves. More so, when there is a provision of a safe space digitally where she can take advantage of this instrument to express herself, make an impact on her community, inspire others, bring the world into balance, and aid in restoring respect in humanity.
Mary Holland, Chief Customer Officer at Payslip
We need to think about the journey women have taken and what the future holds for women entering technology roles. With five different generations in the workforce, digital technologies support women entering new and expanded roles in technology with work flexibility and receiving training.
It is time for all of us to take responsibility across the world to address priority areas of work: inclusion making sure everyone is heard, quality education for girls, culture change to embrace women entering technology roles, mentorship to prepare women for future roles, and recognizing gender bias. We, as leaders, can make a difference.
Megan Gougen, Head of Platform Operations at SafetyWing
Access to technology and creating a safe digital space for women is essential to reaching gender equality. Online harassment and discrimination can have a terrible impact on women's mental health while preventing us from contributing to global change like men do.
New tools that help create a safer online environment for women are continuously being developed. Encrypted messaging apps, AI algorithms, and social media companies' measures can provide secure communication channels, remove harmful content and prevent impersonation and harassment.
A multi-faceted approach involving education, policy changes, and technology is necessary to create a safe digital space for women so we can work towards equal use of technology, not just access to technology.
Neeraja Ganesh, Head of Education Initiatives at Aspire for Her
Before we speak about a safe digital space, let's understand what a safe physical space is when it comes to women. Digital is only a copy of what is available physically. So, the effort should be to replicate everything that one does to make the physical space safe. This is where the role of technology comes in.
Sometimes, Technology can even make the physical space safer. The power that technology has, as everyone knows, can be used or abused. So, to be able to create safe spaces, one needs to have holistic thinking and implement that everywhere. Only thinking about safe digital space will not help!
Priyanka Mitra, VP at Everest Group
Creating a safe digital space for women is crucial in today's world, where technology is integrated into our daily lives. I am optimistic to see that the industry is working actively towards creating a safe space for women. But there is still a lot to do to reduce the gender gap that still exists.
Technology also plays an important role in creating an environment that fosters inclusivity, diversity, and equality – building secure communication channels, easy-to-use and confidential reporting mechanisms, and using artificial intelligence (AI) for content moderation, among many others. A multi-pronged approach that includes education, policy, and cultural change is essential to bring change.
Also read | HR Tech Enabling Seamless Transition to Future of Work
The way forward
There are various challenges for women worldwide. In a historically male-dominated field such as technology, there have been exponential advancements, much more so with the involvement of women in it.
Thanks to digital technology, new avenues have opened up for the global empowerment of women and other underprivileged groups. Utilizing this opportunity to eliminate any disparity and inequality is a collective effort, and initiatives like Women's Day, especially with the support of organizations like the United Nations, help drive the change.
And if you're wondering why we still need to celebrate women when we have already come this far. Because we are still not there yet, there is still a long way to go till women feel safe, their rights are secure, and progress is equal.
From the desk of Neeyamo's editorial team.
Stay informed with latest updates
If you're curious and have a thirst for knowledge pertaining to the HR, payroll, and EOR universe, don't miss out on subscribing to our resources.