Blog
Next-Generation Payroll Technology: Embracing the Era of Autonomous Global Payroll
Image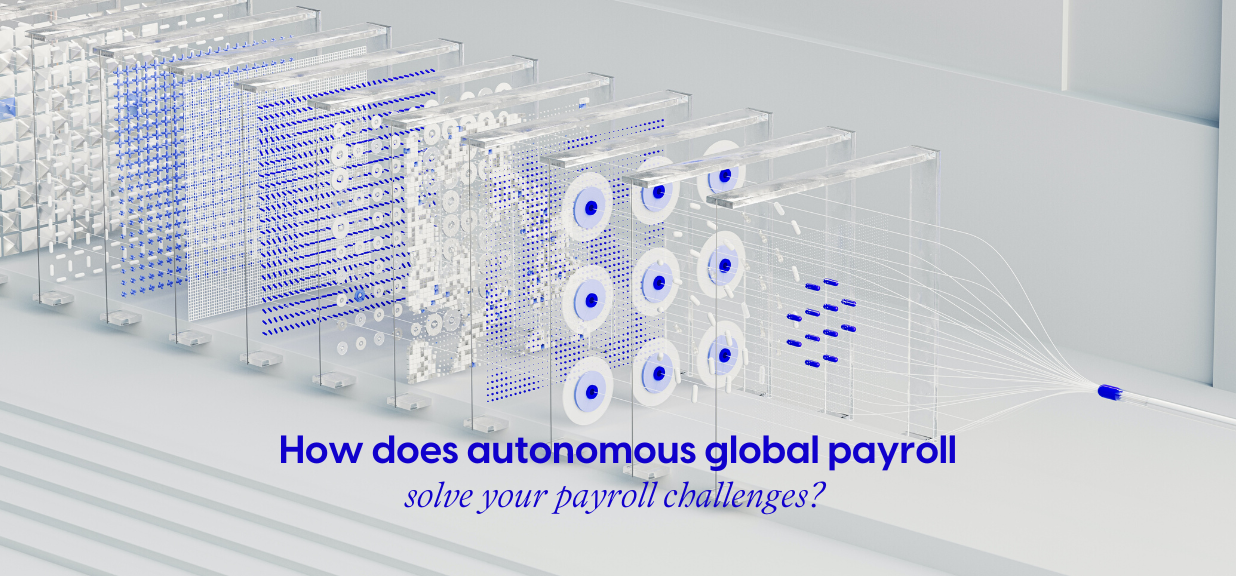 Technology continues to transform industries at a breakneck pace. Yet, somehow, one part of the world remains shackled to outdated systems and technical and operational nightmares: global payroll. 
Global expansion, consolidation, and control of enterprise processes at a global scale are priorities. Businesses continue to transcend borders while dealing with an intricate web of compliance concerns, currency conversions, and country-specific regulations that devour their time. 
However, the landscape of payroll management is on the cusp of a revolutionary transformation. With the advent of autonomous global payroll, the world is witnessing a seismic shift in how organizations handle payroll processes.
ALSO READ: The Payroll Story: Industry transformation over the years 
What is autonomous global payroll? 
By harnessing cutting-edge technology and innovation, this new era of payroll automation promises to streamline operations, increase efficiency, and empower employees like never before. 
Gone are the days of grappling with manual calculations, fragmented systems, and compliance headaches. Autonomous global payroll paves the way for a unified, efficient, and seamless approach to payroll processing on a global scale.  
This next-generation payroll solution is poised to revolutionize how organizations manage their global workforce through advanced software, intelligent automation, and real-time data analytics. 
What are the challenges addressed by autonomous global payroll? 
Autonomous global payroll eliminates the complexities of managing multi-country payroll by providing a fully-integrated, hyper-automated solution that streamlines processes and ensures compliance across diverse international payroll requirements. A single global payroll platform with native gross-to-net engines in 100+ countries eliminate the need for juggling disparate systems and reconciling different payroll processes.  
Instead, organizations can leverage a single global payroll platform that ensures compliance with local tax regulations, labor laws, and reporting requirements. The result? A simplified, streamlined payroll administration that saves valuable time and resources. 
ALSO READ | Global Payroll: 10 Trends that will be prominent in 2023  
One of the foremost benefits of autonomous global payroll is the enhanced accuracy it brings to the table. By leveraging intelligent payroll automation and machine learning algorithms, this advanced payroll solution minimizes the risk of errors and ensures precise calculations. With lightning-fast processing times, organizations can say goodbye to costly mistakes and sleep easily, knowing that their employees' earnings are accurate, timely, and compliant. 
In addition to efficiency and accuracy, an autonomous global payroll solution offers a robust security framework. With secure data encryption and hardened security measures, organizations can rest assured that sensitive payroll information remains protected. Blockchain-enabled payroll platforms further enhance data integrity and create an auditable record of transactions, ensuring trust and compliance. 
How does autonomous payroll benefit global payroll administrators? 
Autonomous global payroll simplifies the complex task of managing multi-country payroll by providing a unified platform that integrates HR and payroll systems, helping organizations achieve a holistic system of record, simplifying governance, and improving data integrity. 
It streamlines processes and enhances compliance, enabling administrators to focus on strategic initiatives and reducing administrative burdens. 
How does autonomous payroll benefit HR and employees? 
Autonomous global payroll empowers HR and employees with a seamless and user-friendly experience. HR professionals gain access to comprehensive reporting and analytics, enabling them to make data-driven decisions and optimize resource allocation.  
Employees benefit from self-service portals and cloud-based payroll software, allowing them to manage payroll-related tasks effortlessly, access real-time information, and control their financial well-being. 
From accessing payslips to updating personal data, employees can now effortlessly manage their payroll-related tasks, fostering a culture of transparency and empowerment. 
The future of payroll is here 
Autonomous global payroll represents the future of payroll management—a future where organizations can harness the power of cutting-edge technology to achieve streamlined operations, enhanced accuracy, and empowered employees.  
By embracing this next-generation payroll software, organizations unlock unprecedented efficiency, compliance, and user satisfaction levels. The time has come to bid farewell to the limitations of traditional payroll systems and embark on a journey toward a new era of payroll excellence. 
Payroll 3.0 pioneering the path toward autonomous global payroll 
And the first step towards that journey begins with Neeyamo Payroll ™ 3.0, an unrivaled global solution unburdened by any ICP or external software. Payroll 3.0 offers organizations a hyper-automated, holistically-global, and fully-integrated payroll solution that caters to their multi-country payroll needs.
Ignite your payroll revolution and get to know more at www.neeyamo.com or send us an email at irene.jones@neeyamo.com. 
From the desk of Neeyamo's editorial team.
Stay informed with latest updates
If you're curious and have a thirst for knowledge pertaining to the HR, payroll, and EOR universe, don't miss out on subscribing to our resources.