Blog
The Payroll Story: Industry transformation over the years
Image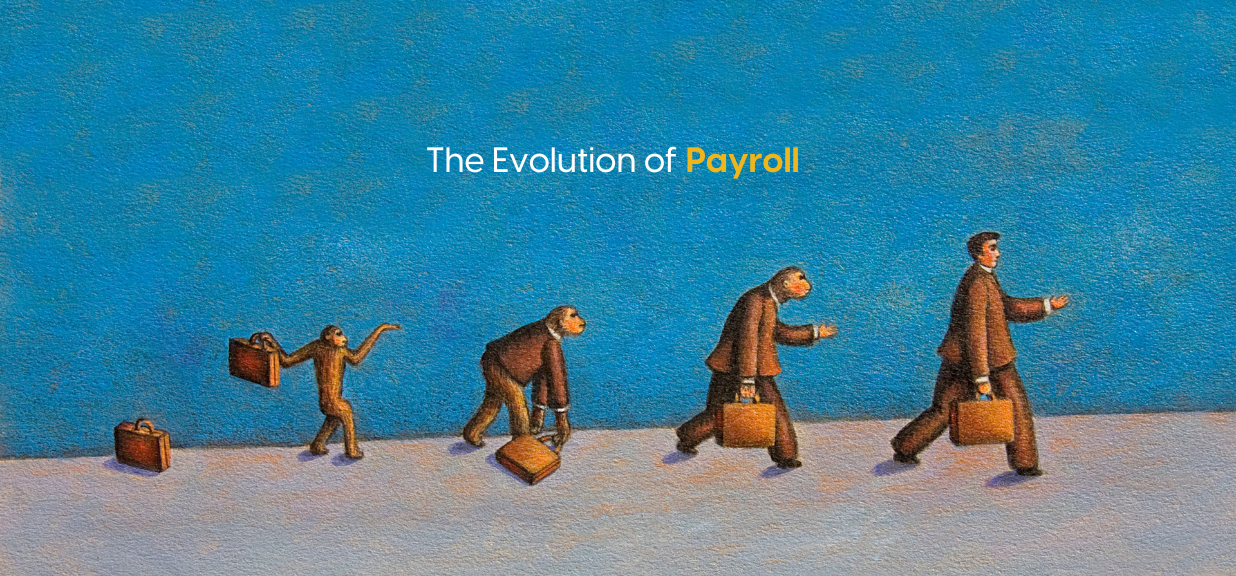 The HR Payroll Software market was valued at a whopping $27.65 billion in 2022 by a Vantage Market research report. The surge in demand for automated payroll software solutions has been a significant driver of this growth, and the market is projected to reach $46.6 billion by 2028.
How did this niche market transform into a significant contributor and indicator of the world economy?
How did payroll, a manual process for several years, evolve and step into the automated world?
ALSO READ | HR Tech Enabling Seamless Transition to Future of Work
Payroll transformation: A step into the technological world 
The popularization of computers in the 1980s revolutionized payroll management systems. Businesses continued to incorporate newer technologies to optimize payroll operations. 
This was also the time when the term "outsourcing" originated. Employing another company to process payroll was unheard of before, opening new horizons in the payroll industry. 
Another significant milestone that provided a platform for payroll, and supported and recognized payroll at the global level, was the inception of the American Payroll Association in 1982.  
Eventually, simple yet revolutionary tools that simplified the payroll calculation process gave way to the incorporation of AI and machine learning. 
The transformation of the payroll industry began with automation, which enabled businesses to streamline payroll operations and deliver more accurate results. Automating the processes involved in payroll, from input gathering and validation to payroll calculation and delivery was seen as a welcome move. 
Accuracy and punctuality increased expectations regarding efficient calculation, offering a more comprehensive range of opportunities to explore the scope for development and advancement.
ALSO READ | Global Payroll: 10 Trends that will be prominent in 2023
How payroll has continued to evolve: ties with HR and EOR
Over the years, as the payroll industry has grown, it has become a crucial part of businesses. It has become an integral part of HR and, more recently, Employer of Record (EOR).
Payroll goes beyond just complementing HR processes and EOR and lays a foundation for them globally. Businesses are exclusively reaching out to combined HR and payroll service providers instead of seeing it as a mere added bonus.
Global expansion is one of the critical determinants of a company's success, and payroll and HR or EOR services enable an organization to diversify its talent pool while ensuring compliance. 
Payroll providers offering HR-shared services also prove beneficial in terms of data security and cost-cutting for businesses. Without having to depend on independent contractors and vendors, companies can also ensure accuracy in payroll calculations.
Vendors offering payroll and EOR services also enable companies to focus on organizational tasks, as EOR services effectively take care of employee management, ensuring employee satisfaction. 
Payroll has become an integral part of HR software, with tools to evaluate attendance, time logins, and additional employee benefits being integrated with them. 
You may also like – Payroll Outsourcing: All you need to know
Of changes and challenges
The payroll industry has witnessed several changes. From the very first computer to on-demand pay, the industry has had various turning points. 
Popularized in 2006, cloud-based software went from being a fad to an essential feature in payroll. It propelled the transition to go paperless, was more user-friendly, and even opened the avenue for remote work owing to its accessibility. 
With the rise of smartphones, there was a need to ensure seamless software integration with any device. Mobile applications, combined with the growth of cloud-based software, allowed employees to access their payroll information anytime and from anywhere. 
The pandemic put all of these developments to use. With the entire world going into lockdown, it was a sudden hurdle faced by payroll professionals to process and deliver payroll on time for remote employees. 
Several businesses came to a halt, and newer challenges came up. For the payroll industry, compliance was critical as several countries tried to incorporate changes that would lessen the economic damage of the pandemic. 
Even though flexible work models were widely implemented, companies were struggling with delivering compensations on time due to the lack of experimentation with remote technology at a larger scale. 
While HR technologies quickly adapted to the situation, payroll technology had to be updated to be scalable. 
Since payroll and HR have similar aspects, including the input data required for payroll processing, like time logs, absence records, and other employee details, integrating payroll into HR automation was a more straightforward solution. 
Post-pandemic, this move was considered while developing HR strategies to adapt to the working conditions. By integrating payroll and HR technologies and automating the process, businesses allow better employee satisfaction and retention strategies to be implemented. 
Happily ever after?
Payroll operations have undergone rapid digital transformation. As payroll remains a critical part of organizations, organizations must prepare for future developments in payroll technology, accommodate those changes, and improve functionality. 
There is still a lot of groundwork that goes into processing payroll. On-demand pay and single-touch payroll remain the ideal vision. 
This vision is starting to come true thanks to Neeyamo, courtesy of our revolutionary single global payroll engine that powers our global payroll solution. Augmented by our proprietary platforms that provide a peerless payday experience, Neeyamo is en route to revolutionizing the world of payroll by making touchless payroll no longer a pipe dream.
From the desk of Neeyamo's editorial team.
Stay informed with latest updates
If you're curious and have a thirst for knowledge pertaining to the HR, payroll, and EOR universe, don't miss out on subscribing to our resources.