Blog
Overcoming the Global Payroll Challenges in APAC
Image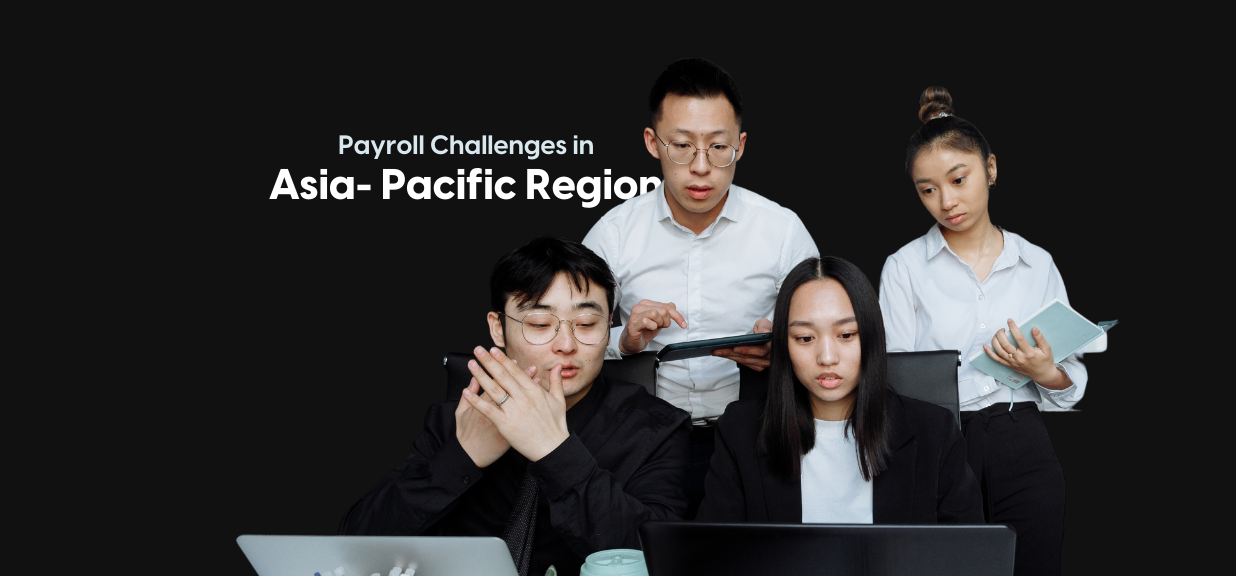 11 time zones, 48 countries, a gazillion languages, and almost 60% of the world's population. That is just a sneak peek of the eye-popping numbers that make Asia-Pacific (APAC) an incredibly diverse and challenging market to crack. When you thought global payroll processing is not complex, imagine your firm expanding into a dynamic, fast-growing region playing host to three of the world's top economies that are vast and diverse, containing two-thirds of the world's population, a myriad of currencies, languages, cultural traditions, and growing economies.
The future looks promising in APAC, and expansion into this flourishing region will be critical to the future success of several businesses. However, this will need a high degree of competence and awareness of the evolving regulatory environment.
With prominent business centers like Singapore, Hong Kong, and South Korea, breaking into this market is a no-brainer. However, country-specific data privacy regulations, cultural sensitivities, and post-payroll procedures involve technical infrastructure and localized understanding.
Major Deal-Breakers in the Market
To begin with, obtaining a single picture of all labor data might be difficult. Some nations in the area, such as South Korea and Japan, are hyper-connected, with predictable internet access and technological equipment. Companies in emerging countries like Indonesia and Cambodia may depend on in-house payroll applications—not because they want to, but because the technology to help support the process is largely inconsistent.
Second, treasury services in the APAC region might provide additional difficulties. Currency conversions may be back-breaking, banking timeframes vary, and some nations impose other restrictions on foreign currency transactions. Fines and penalties for late submissions have been added to the mix, making it even more tedious.
What makes payroll in APAC so tricky?
Numerous Time Zones
When setting up payroll in APAC, the first stumbling block that global enterprises must address is the region's size and geographic location, which significantly influences communication and cooperation procedures. The explanation for this is straightforward: APAC has 11 distinct time zones and spans two continents.
This has severe consequences for unifying payroll operations across various APAC nations, making communication difficult for international firms with headquarters in North America or Europe that want to grow into this region. Assume your global payroll manager is situated in New York and must communicate with your Japan-based payroll supplier; scheduling a meeting with a 13-hour time difference is tricky.
Regional Disparities Within Countries
Multinational corporations seeking to hire personnel in India, for example, will face a plethora of laws and regulations from no fewer than 28 states. Different cultural festivals and public holidays in each region are perhaps the least of your concerns in such a complicated legal framework. China, where social security contributions for both employers and employees are location-dependent, is another good illustration of how regional variances may make payroll processing in APAC more cumbersome.
Rapidly Changing Corporate Environment, as well as regular legislative changes
While the rapid development associated with rising countries and the dynamic nature of the business climate in APAC are two of the key draws for multinational companies, they may also have a detrimental influence on the payroll. Payroll compliance is complex at any time, but it's considerably more complicated when laws and regulations appear to change regularly. Payroll teams in the Asia-Pacific area face an added challenge in keeping up with regulatory changes, especially because non-compliance fines may be extremely high.
It's also natural if your mind is spinning right now because the intricacies in the APAC market can have that effect. With 28 states and many provinces, India and China respectively are prime examples of complicated legislative frameworks that demonstrate the need for APAC payroll knowledge. Lodgment, filing, payments, and funding are all "last mile" post-payroll processes in the APAC area. Returning to our examples of India and China, the degree of variation between the manner of submission and the filing deadline varies not only by the nation but also by state and municipality. Are the intricacies a bit too much to handle?
Neeyamo specializes in global payroll with a presence in over 150+ countries which includes all the said countries in the APAC region. We leverage our global presence to ensure that we approach challenges with a holistic perspective and help organizations stay compliant locally.
Do you have any such challenges that we can help solve? Get in touch with us, and we would love to hear from you.
From the desk of Neeyamo's editorial team.
Stay informed with latest updates
If you're curious and have a thirst for knowledge pertaining to the HR, payroll, and EOR universe, don't miss out on subscribing to our resources.