Blog
13 Questions to ponder before picking your EOR Provider
Image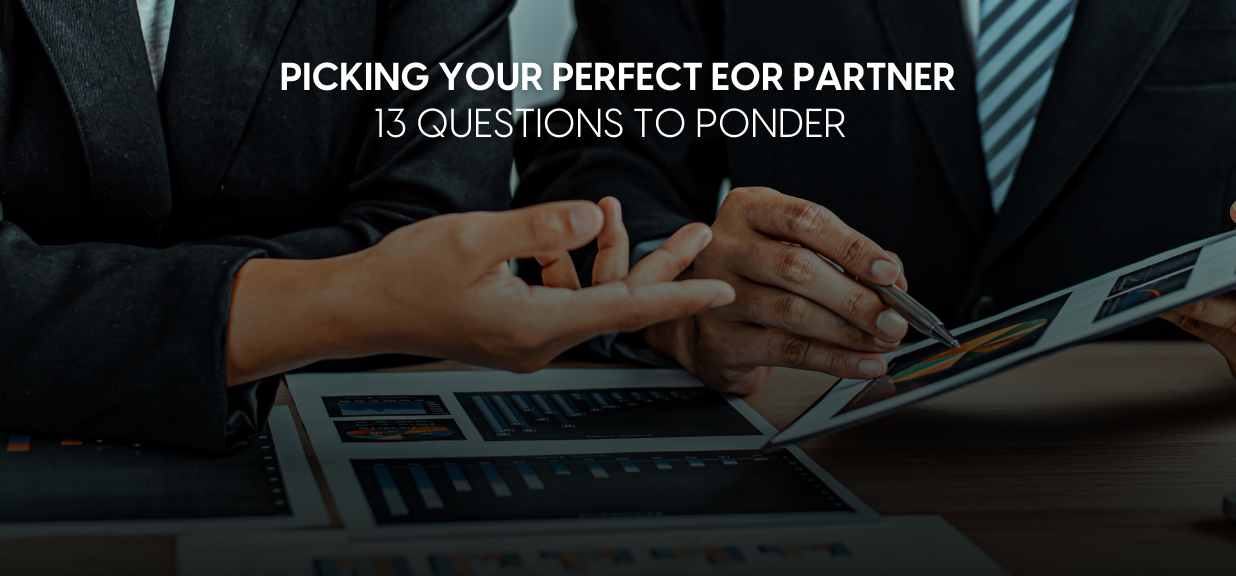 Though Global expansion may be daunting to many, it has become an essential aspect of running a successful business rather than just a choice.
Global employment or expanding an already existing remote workforce may seem like an exhaustive task with too many formalities to go through, such as establishing a physical local entity, as well as a legal entity, adherence to local labor laws, ensuring compliance and handling payroll and tax specification for the particular country. But all of these tasks can be simplified by partnering with an employer of record (EOR) service. 
What is an Employer Of Record?
An EOR partner assists you in eliminating the hassle of handling complexities while onboarding international employees, helping them achieve a distributed workforce without the hassle that typically comes with hiring in a new country.
They help bridge the gap that otherwise mandates organizations to have a local registered entity and a local bank account before making a job offer to an international hire.
Global EOR service providers act as legal employers, facilitate salary payments, and manage other statutory requirements such as health insurance, payroll taxes, and employee benefits, ensuring compliance with local tax laws and regulations in place of the employer. 
Choosing the right EOR provider is essential in ensuring the smooth operation of your global workforce. Though a track record of success may seem appealing, several other aspects should be considered while choosing a prospective EOR partner.
Questions to consider when choosing an Employer of Record (EOR) Provider:
Does the provider have a proven track record? When choosing an EOR service, ensuring they have a lot of experience and a good track record is important. Experience helps them understand their client's needs and provide the best possible service.
Would they be able to fulfill industry-specific requirements? The requirements from industry to industry vary greatly; certain industries require specific documents, certifications, or recognitions to practice or work in a different country. The EOR provider must be able to monitor and manage these essential documents effectively.
What is their level of expertise about the host country's compliance regulations? The EOR provider's knowledge about a specific country, its compliance requirements, and local employment laws must be extensive. This understanding is indispensable in safeguarding the employer against compliance-related issues and ensuring adherence to all necessary regulations.
What is the level of automation offered? Some EOR providers leverage technology to streamline their EOR functions, while others rely on manual processes, which may lead to labor-intensive and time-consuming tasks. Automation saves time by significantly reducing processing time and human errors, which benefits companies using EOR services.
What is their ability to onboard and offboard employees? EOR services can help employers navigate the intricacies of compliance and regulations associated with employee onboarding and offboarding. This plays a pivotal role in determining the ease with which employers can engage new talent seamlessly.
Where do they rank on market reports from analyst firms? Analyst firms conduct comprehensive evaluations and comparative analyses of different organizations to identify the most appropriate choice to fulfill your company's requirements. Their market reports are valuable references for employers seeking to leverage Employment of Record services.
What additional services do they offer? In addition to employer of record, some EOR providers may extend supplementary solutions to employees, such as HR and payroll systems for payroll processing, time, and absence management for tracking employee work hours. The availability of a comprehensive suite of services within a single provider streamlines the employer's global expansion process.
Is the cost commensurate with the value provided? The pricing of Employment of Record services is subject to regional disparities, and various determinants like industry specifics, compliance requirements, and others may contribute to cost discrepancies. In addition to these considerations, employers must evaluate the cost-effectiveness of engaging an EOR provider versus establishing their entity in the respective country.
Is there transparency regarding additional employer costs? The employer must select a provider that fully discloses all ancillary costs and expenses associated with the service before entering into an agreement. Unforeseen hidden fees or additional expenses can pose challenges for the employer and should be avoided through thorough disclosure.
Does the EOR provider offer customer support and assistance? Being an EOR provider entails overseeing a workforce spanning various countries and time zones. They must maintain round-the-clock assistance to support these employees effectively, ensuring comprehensive coverage across all nations.
What insurance coverage is maintained by the provider? To guarantee the legal protection of the employee within their chosen jurisdiction, it is incumbent upon the employer to ascertain that the provider possesses all requisite legal documentation and insurance policies.
Terms and Conditions: Distinct roles and responsibilities performed by the employer and the service provider are typically delineated within the legal agreement's terms and conditions and the employment contracts. Scrutinizing the intricacies of these responsibilities in advance can serve as a preemptive measure, safeguarding both parties from potential legal disputes.
Do they provide an Employee Self-Service portal? Easy access to HR data and personal data for employees through a self-service portal would aid both the employer and employee in keeping track of employee data and would act as a single source of truth.
An ideal EOR partner would provide a unified system that includes an integrated HRIS and Payroll system. The benefits of an integrated HR and Payroll system not only assist remote employees but also employees who work on-premises.
An optimal Employment of Record (EOR) collaborator would offer a unified system encompassing both Human Resources Information System (HRIS) and Payroll functionality. The advantages of this integrated HR and Payroll system extend support not only to remote employees but also to those working at physical locations.
Finding the picture-perfect EOR Provider that ticks all these boxes may seem like an impossible task, but with Neeyamo as your EOR partner, you can leave all your worries behind. Neeyamo's Global Work Solution ensures that all your EOR needs are handled, and you can seamlessly onboard talent anywhere and everywhere.
Neeyamo also provides other solutions, such as time and attendance tracking, benefits, etc, to aid a smooth transition from talent to employee!
Book a personalized demo with one of our experts here and discover the future of workforce excellence with Neeyamo.
From the desk of Neeyamo's editorial team.
Stay informed with latest updates
If you're curious and have a thirst for knowledge pertaining to the HR, payroll, and EOR universe, don't miss out on subscribing to our resources.