Blog
4 Key Learning Strategies for the Gig Workforce
Image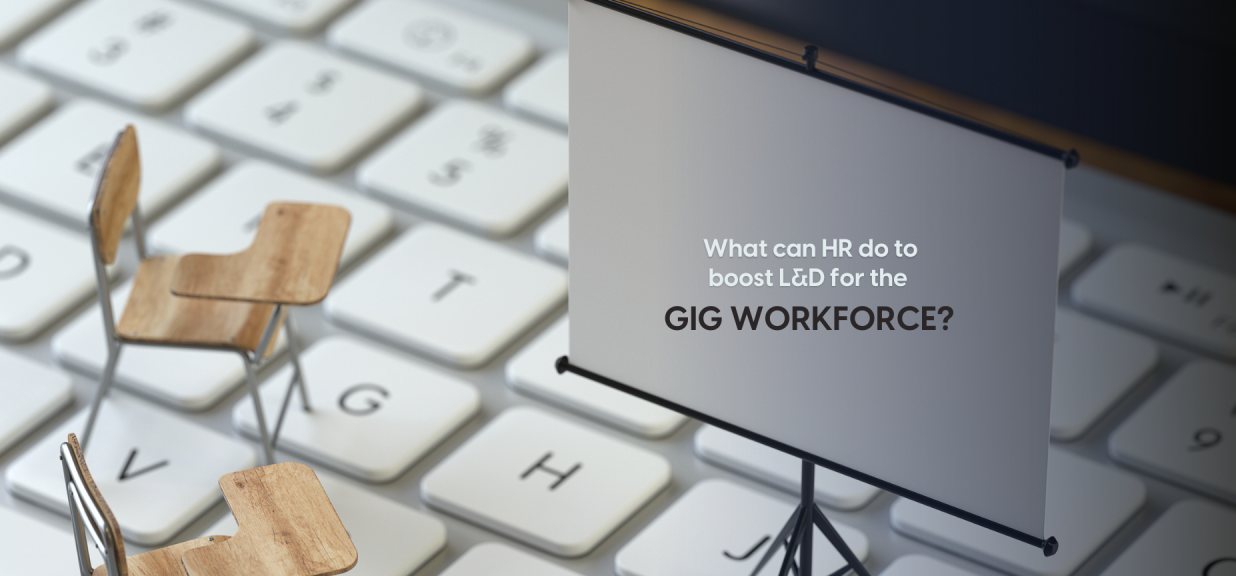 Who would have wished for a fully remote working life than introverts?
None, right? Still, that has become increasingly prevalent since the onset of the pandemic. With organizations having to transform their operating model completely, everyone has come to terms with the fact that work can be done from anywhere, anytime. But back when this was not a widely adopted strategy, the gig economy had taken this as their Holy Grail.
There are stark differences in how gig employees and regular full-time employees operate. But does that mean the organization employing contingent workers can avoid the responsibility of training them? Would they be happy to stay away from the L&D activities at the organization? It is a no-brainer that L&D strategies that work for regular employees might sound absurd for those part of the gig economy.
Let's understand why. Generally, gig employees who work on a contingent basis do not work together in a single workspace – an inevitable risk of losing a sense of cohesion springs up.
On the other hand, training people working at the same office will be a cakewalk relatively, considering the ease of bringing them together as a team. HR teams must build a special training and learning strategy plan to keep these gig workers on track and aligned with the organization's objectives.
ALSO READ | Understanding the Digital Nomad lifestyle with Ali Greene 
As gig employees bring new-age skills and competencies like speed and agility, a wholly different L&D outlook is required to manage them. While this is true, several organizations still need to get these contractual employees trained in the first place.
Understanding the benefits that can be realized if remote workers feel included as part of the organization is essential. Hence HR teams need to offer them L&D options that would keep them aligned with the organization-wide goals.
Let's look at critical strategies that would help HR teams to take up the reins in training the gig workforce.
Digital Onboarding
It is equally vital to onboard gig employees, much like regular employees. In-person induction and onboarding sessions might not be feasible for contingent workers, but digital onboarding is more than that.
Joining formalities, organization and leadership inductions, function and process-oriented training, cultural orientations, and other sessions can happen consistently with freshers from wherever they are. These virtual programs are focused on making them hit the ground running right from day 1.
The best part is that such digital inductions and onboarding will pave the way for a seamless, cross-locational onboarding experience. Having an effortless employee integration program will go a long way toward helping with employee morale and boosting talent retention.
Microlearning
We have reached an age where the attention span of an average person has reduced to a few seconds. That being the case, how can we expect gig workers who want everything served on their plate at the quickest time to listen to hour-long video sessions?
Enter – Microlearning. Content that's curated differently, keeping the gig working style in mind. Bite-sized content that can be consumed at flexible schedules is what interests these contingent workers.
Communication and Collaboration
One visible challenge with managing remote workers is that HR teams usually can't spark collaboration between remote and regular employees. That becomes a barrier to exciting brainstorming sessions that happen between employees.
Companies need to look at learning platforms that promote social learning and knowledge collaboration among employees. This would create an atmosphere where there is an equal opportunity for all employees to collaborate, learn and grow together.
Continuous Learning through Third-party tools
While continuous learning and upskilling are vital for all employees, it becomes more relevant in the case of gig workers.
Keeping powerful third-party learning tools like Udemy and Lynda accessible to these employees will empower them, amp up their experience in your organization, and help them hone their skill set to the fullest. Leading learning management systems are integrated with online course marketplaces, hence giving a massive advantage to employees who rightly use them.
ALSO READ | Global Work: Top 10 Predictions for 2023 and Beyond
The bottom line:
The list doesn't end here. There are other trends, including gamification and performance monitoring analytics which have always been a helping hand to global firms in training their workforce.
In a nutshell, companies should devise a robust L&D strategy that gives equal importance and opportunities to all employees, irrespective of whether they are regular or contingent. That is what would help organizations reap benefits from a blended workforce.
Having a tech-based EOR solution that can help you manage your extended workforce with in-built platforms like Onboarding, Survey, and DocGen would undoubtedly aid in managing your gig workforce.
Are you interested in learning more about training your gig workforce? Drop a line via irene.jones@neeyamo.com, and our experts will talk to you.
From the desk of Neeyamo's editorial team.
Stay informed with latest updates
If you're curious and have a thirst for knowledge pertaining to the HR, payroll, and EOR universe, don't miss out on subscribing to our resources.