Blog
5 Changes that will define the future of work
Image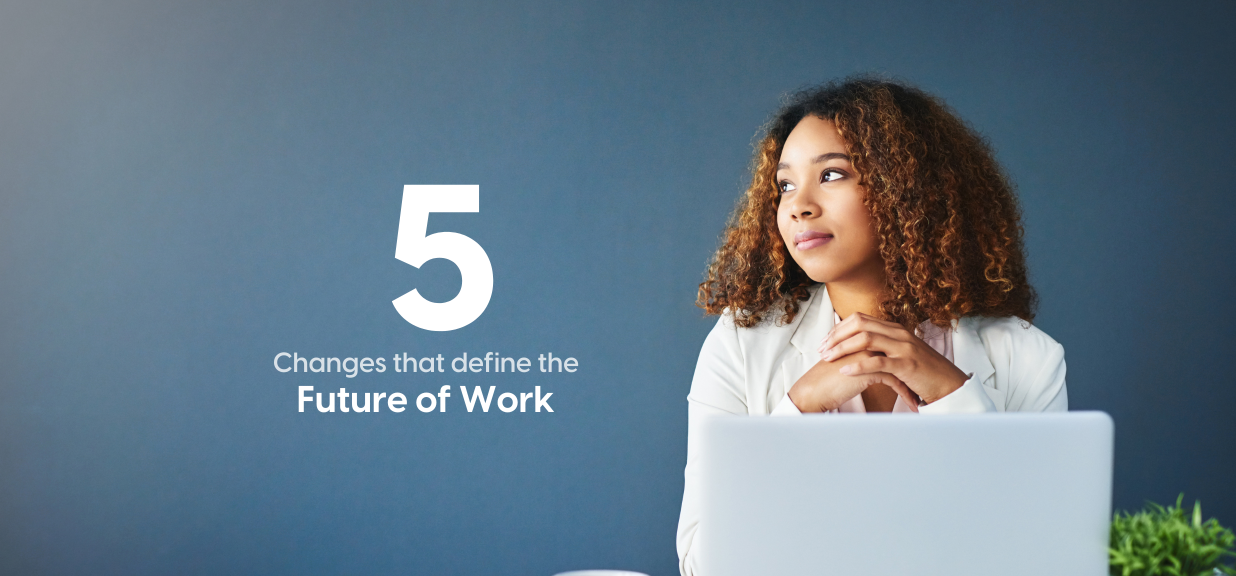 Between 2019 and 2022, the global employment rate fluctuated wildly due to various reasons, including the COVID-19 pandemic. This fluctuation not just pertained to the number of employees but also to work models across the world. With billions of people involved, each person's definition of work is unique.
In a pandemic-accelerated scenario, "work" has been redefined, reinvented, and reimagined. The term no longer means being physically present, as remote work has accommodated a globally dispersed workforce.
The labor market and work environment have been irreversibly changed. Here are five ways in which the future of work will change:
1. Digital: The new normal
Technology has already taken over the world, and how things are done has been altered. What sounded bizarre and unimaginable just a few years ago can be done effortlessly with today's technology – working from various parts of the world. But how is employee experience managed in remote work? Where does artificial intelligence fit into this equation?
Even in a long-tail scenario, remote employees must enjoy quick and efficient resolutions to problems. This requires a highly intelligent and intuitive helpdesk with employee experience at its nerve center. Extensive multi-mode time capture will be necessary as accurate timekeeping improves payroll accuracy.
2. Blurred boundaries using EOR
Boundaries are mere artificial borders. While the thirst for new territories, new talents, and diverse operations has increased over the years, the need to recruit remote employees has also grown. With Employer of Record (EOR), the dream of going borderless has become a reality.
Companies no longer must worry about not having legal entities across countries. Ensuring you get the right help simplifies your employees' hiring, payroll, tax, and more! Borderless payroll and employment are now a breeze with the right tools from the right providers.
ALSO READ | What is EOR?
3. Expanded gig economy
Flexible workers can seamlessly fill in the existing whitespace in the company. Companies have grown accustomed to employing a temporary workforce for short-term tasks that may not be required in the long run. Gig employees can be hired globally, cutting across borders and boundaries.
EOR increases the ability to go borderless and makes the globe becomes a small village. The advantage of pooling diverse talent increases the company's ability to tackle and solve problems effortlessly.
4. Enhanced employee experience
The employee experience framework should be at the forefront of every company's pathway to creating the ideal workplace. Every employee's empowerment, engagement, and enablement should be at the epicenter of HR priorities.
Innovative ways to improve employee engagement will need to be discussed, and a unique employee value proposition (EVP) will need to be considered. With increasing inflation and competition putting pressure on compensation, employers must find unique ways to attract and retain talent. Shorter work weeks and in-person work experiences are just some ways in which employee experience can be enhanced.
5. Improved employee health
With more employees working remotely, work-life balance will become a challenge. Chief human resources officers must work together with employees to ensure that burnout is not a frequent problem.
Employers must prioritize employee health and wellness. As employees work around the clock, employers should leverage technology and schedule casual hangouts and virtual get-togethers to discuss life outside work.
According to Gartner, 60% of large employers use tools to track their workers, which is expected to reach 70% within the next three years. Employers must leverage employee monitoring technologies to stay on top of employee health and ensure that remote employees don't feel left out and miss the ability to network with peers and leaders.
Global Work Solution for the Future of Work
The pandemic has merely accelerated several trends in work. With hybrid work becoming mainstream and EVP constantly evolving amidst an ongoing digital transformation at most workplaces, employers must look to innovative solutions to remain relevant.
With Neeyamo's Global Work solution, you can forget any concerns you might have throughout an employee's lifecycle. From being able to onboard talent from anywhere to processing payroll, tracking time, administering benefits, and eventually. With our multilingual support, unique service-based model, and technology-first approach, you can effortlessly navigate the future of work, irrespective of the challenges it brings forth.
From the desk of Neeyamo's editorial team.
Stay informed with latest updates
If you're curious and have a thirst for knowledge pertaining to the HR, payroll, and EOR universe, don't miss out on subscribing to our resources.