Blog
Borderless Talent Acquisition: The Why and How?
Image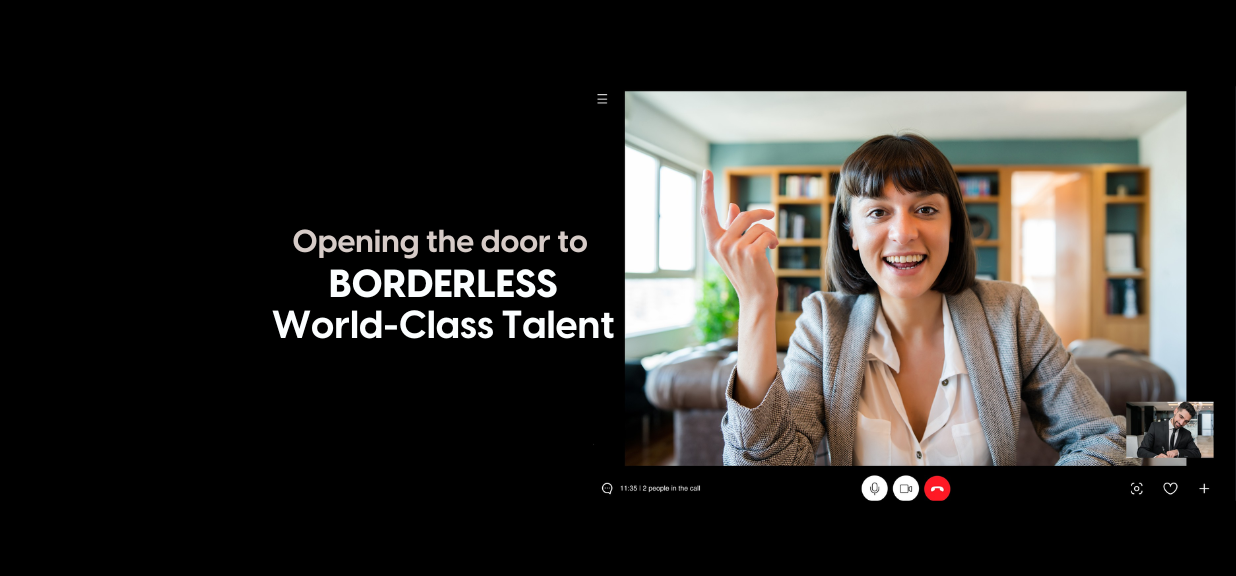 The pandemic has changed the rules of recruitment. With continuous changes in the work culture, remote talent acquisition is the evolving frontier in the field today. Companies incur expenses, including a cost per hire, while hiring a potential talent across boundaries. Companies can diminish these costs by planning effective remote talent acquisition strategies.
With technological advancements, companies have also developed the ability to approach the process from a borderless perspective. Borderless talent acquisition gives companies access to top global talents without geographical dependence. Borderless hiring has opened the door for talent acquisition teams to find world-class talent without any logistical hurdles.
What are the benefits of remote talent acquisition?
The talent acquisition process is adopted as a strategy to focus on long-term human resource planning and finding the apt candidate with a specific skill set instead of attempting to fill the organization's open positions.
Taking the borderless approach in hiring comes with several benefits, and solutions like EOR have only made it easier for the HR department, hiring managers, and employees.
Also read | EOR: The Perfect Solution for your Global Expansion Plans
Cost-saving – Remote work is less expensive compared to traditional work models. There are no costs associated with virtual recruitment in terms of travel or lodging. These cost reductions will increase long-term if you hire new employees regularly. Virtual recruitment technologies are affordable and provide a significant return on investment.

Breaking Geographical Barriers – Employers can reach out to a bigger talent pool not restricted by geographic boundaries via virtual recruitment than they might with traditional techniques. It also provides employees with the opportunity.

Saves time – When recruiting, the most crucial goal is to get the best candidate started in their new work as soon as possible. This can be aided via virtual recruitment, which speeds up the entire recruitment process. It allows businesses to screen and shortlist a more significant number of candidates in less time. There is also no need to set up a lot of time to make it easier for candidates and interviewers to do face-to-face interviews.
The most apparent benefit of borderless hiring is that it gives you access to a near-infinite talent pool. Because you are not competing for the same local talent as your competitors, you do not have to be as flamboyant as they are. Moreover, it can be tough to remain on top of intricate local legislation addressing taxes, benefits, and other issues if your firm operates in numerous countries or is planning to grow abroad.
EOR eliminates all these processes in an employee's life cycle, allowing companies to expand into new markets, manage payroll for overseas personnel, sponsor work visas, and manage their benefit systems efficiently. With 52% of workers preferring a hybrid work model and 11% willing to move to a completely remote setup, it is more feasible for companies to consider the global talent pool keeping in mind how work models affect employees' productivity.
Neeyamo's Global Work solution is tailor-made for companies seeking to expand their talent acquisition. Combined with its Global Payroll solution as part of its Global Payroll Tech Stack, it offers a holistic solution that helps companies efficiently manage their global workforce.
Reach out to the experts at irene.jones@neeyamo.com for more insights.
From the desk of Neeyamo's editorial team.
Stay informed with latest updates
If you're curious and have a thirst for knowledge pertaining to the HR, payroll, and EOR universe, don't miss out on subscribing to our resources.