Blog
Securing HR Data: Protecting Privacy and Reputation in the Digital Age
Image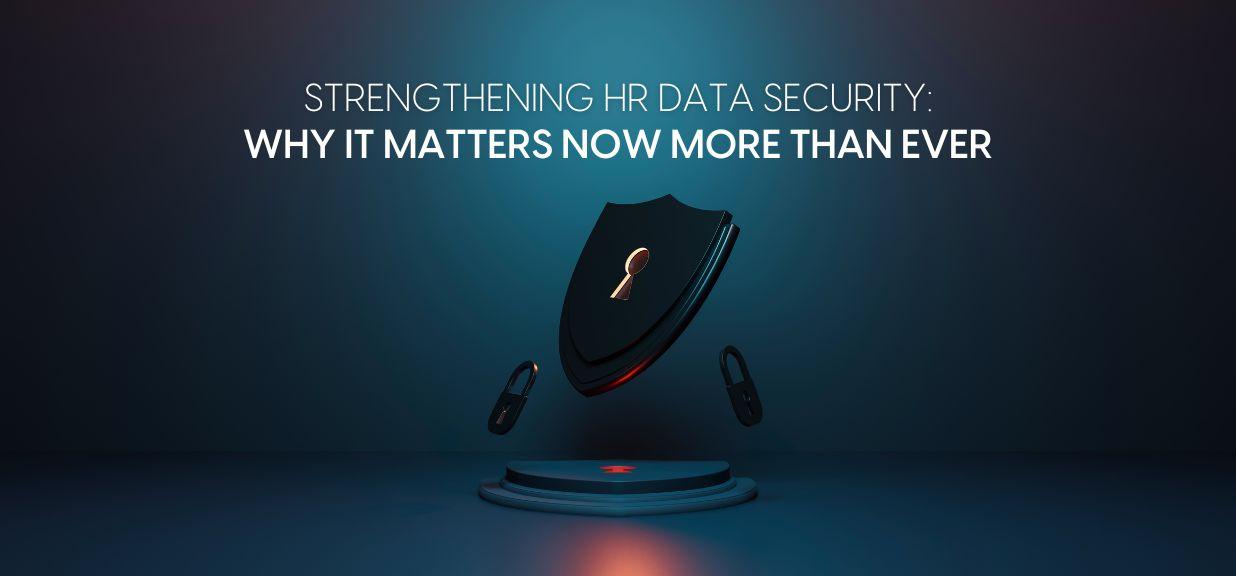 We encounter or create data at every single point of our lives. We also consume as much data as we create. In an era where data has become a crucial aspect of the digital world, we must understand the significance of data security and how it shields us from external threats such as cyberattacks. Cybersecurity statistics claim that there have been over 2200 attacks daily, one cyberattack happening every 39 seconds on average.
Data security protects sensitive and confidential information from unauthorized access, use, disclosure, modification, or destruction. Data security is essential for HR professionals as they handle the personal and financial data of employees, applicants, and clients. Data security has not only become a legal obligation but also a moral duty and can be a competitive advantage from various crucial standpoints.
ALSO READ | Fortifying Payroll Operations: The Crucial Importance of Data Security
HR departments rely heavily on data security for countless essential reasons; here are some important ones:
Data security protects the privacy and dignity of individuals
HR data often contains personal information such as names, addresses, phone numbers, email addresses, social security numbers, bank account details, health records, performance reviews, disciplinary actions, etc. If this data falls into the wrong hands, it can cause serious harm to the individuals involved, such as identity theft, fraud, blackmail, harassment, discrimination, or even physical violence. In a survey conducted by KPMG, 30% of respondents claimed that they would not share their personal data for any reason due to the fear of a cyberattack or data leak.
Data security protects the reputation and credibility of the organization
HR data also reflects the culture and values of the organization. If this data is leaked or compromised, it can damage the trust and confidence of employees, customers, partners, investors, regulators, and the public. This can result in legal liabilities, financial losses, negative publicity, loss of customers, loss of talent, or even loss of business.
Data security protects the competitiveness and innovation of the organization
HR data is also a valuable asset that can help the organization gain insights and make better decisions. If this data is stolen or copied by competitors or hackers, it can erode the organization's competitive edge and innovation potential. This can result in loss of market share, loss of revenue, loss of opportunities, or even loss of survival.
DOWNLOAD | The Ultimate Guide to Cybersecurity for Remote Workforce
So, how can HR professionals ensure data security in their daily work? Well, there is no one-size-fits-all solution, but here are some ways and practices that can help:
Use encryption and authentication tools
Encryption and authentication tools can help prevent hackers or malicious insiders' unauthorized data access and use. Encryption allows the transforming of data into an unreadable format that can only be accessed by authorized parties with a decryption key, and authentication ensures the verification of the identity and credentials of users who access data; for example, you can use encryption software to encrypt your files and folders on your computer or cloud storage. You can also use authentication software to require passwords or biometrics to access your devices or applications.
Use secure communication channels
Secure communication channels use encryption and authentication to protect data in transit. For example, secure email services can encrypt your messages and attachments. You can also use secure messaging apps that encrypt your chats and calls. You should avoid using insecure communication channels such as public Wi-Fi networks or social media platforms that do not offer encryption or authentication.
Use data minimization and retention policies
Data minimization is the principle of collecting and storing only the necessary and applicable data for a specific purpose, and data retention is the principle of keeping data only for as long as it is needed and deleting it when it is no longer required. Data minimization and retention policies can help reduce the amount and duration of data exposure and risk. For example, you can use data minimization tools to anonymize or redact sensitive data before sharing it with others. You can also use data retention tools to delete or archive old data after a certain period automatically.
Use data backup and recovery plans
Data backup and recovery plans can help ensure data availability and continuity in case of unforeseen events such as power outages, hardware failures, natural disasters, cyberattacks, or human errors by using the data backup option to create copies of data in case of loss or corruption and restoring data from backups in case of disaster or emergency using the recovery plans. One option is to employ data backup services, which enable you to routinely save your data to an external hard drive or cloud storage. Additionally, you can utilize data recovery services to retrieve your data from these backups when necessary swiftly.
ALSO READ | How Pivotal is Information Security for your organization?
As organizations continue to go digital and switch to more data-driven operations, it is not only a priority to safeguard this data but has also become a moral, legal, and ethical obligation. Data security is not only a technical issue but also a human issue. It requires awareness, education, and collaboration among all stakeholders. As HR professionals, we have a key role and responsibility to protect data, respect privacy, and understand that data security is not an option but an essential component of HR management.
To ease the HR process while maintaining the privacy of your employee information, Neeyamo offers various solutions to HR managers to ensure the safety of data and the efficiency of the HR process. Neeyamo's Global Payroll Solution - aids companies in remunerating their employees around the globe without shouldering the burden of compliance within the country.
For managers looking to hire globally, Neeyamo's Global Work Solution handles the hassle of needing a physical entity and so much more while ensuring that your employee's information remains secure and untouched by third parties. 
Protect your most valuable asset, your employees, with Neeyamo's solutions. Reach out to us or book a demo with our experts to discover the future of HR efficiency at our website or email us at irene.jones@neeyamo.com.
Shilpa Rai is a Service Delivery Partner at Neeyamo's HR Enablement department. She is a dedicated professional with hands-on expertise in holistic HR management and offering HR assistance to external clientele.
Stay informed with latest updates
If you're curious and have a thirst for knowledge pertaining to the HR, payroll, and EOR universe, don't miss out on subscribing to our resources.