Blog
The collapse of spreadsheets and the rise of people analytics
Image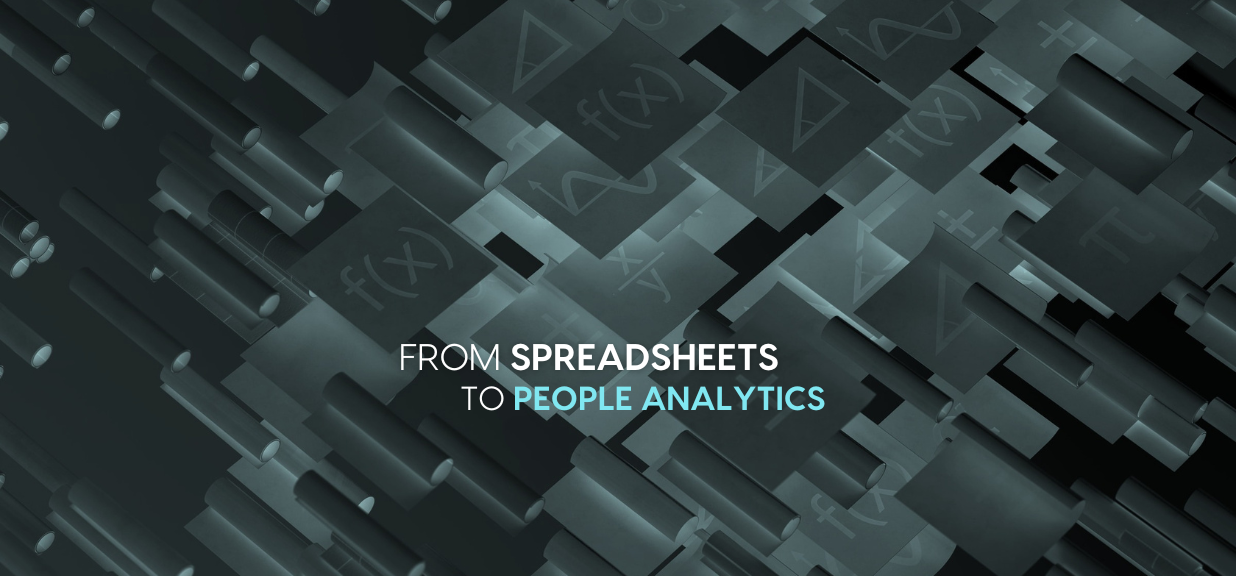 Have you ever wondered why spreadsheets are on the verge of downfall and why people analytics has become the currency of HR? Spreadsheets are a go-to tool for every organization. HR professionals have been using spreadsheets to manage general operations for a long time. However, the question arises whether using spreadsheets is beneficial in handling large data and whether it helps decision-making. To seek the answers, look no further but here.
Spreadsheet Culture
Managing data has always been a task. With the introduction of spreadsheets, the reduction of files and storage proved convenient, eventually giving rise to using spreadsheets as the go-to tool for organizations. It's way easier to customize data, which means easy access to store, maintain, and analyze data. Spreadsheets are used widely in every industry but have significant limitations when handling complex and large-scale data sets, especially in people analytics.
ALSO READ I Unleashing the power of data analytics in HR
Spreadsheet Shortcomings
Spreadsheets are valuable tools for organizations, but they do have their limitations. Various HR functions involve different aspects of data processing, and spreadsheets may not be the ideal choice when it comes to data analysis. While they can store, manage, and analyze data, they lack the specialized features required for effective people analytics. Research conducted by IBM showcased how 88% of all spreadsheets contain at least one error. This limitation can lead to increased risks of human error and difficulties in tracking previous data modifications as more changes are made. Spreadsheets work well for managing smaller data sets, but HR professionals face significant challenges when dealing with larger volumes of data.
Furthermore, spreadsheets are ill-equipped to handle diverse data sources and the fast-paced data flow demanded by people analytics. They lack the capabilities to support the decision-making processes driven by surveys, assessments, and performance reviews. It can be concluded that spreadsheets are only suitable for certain businesses.
A more efficient replacement
Industries needed a platform capable of providing actionable insights and facilitating quicker and more precise data analysis to address this challenge. HR professionals handle a wide range of processes encompassing all HR functions, and this is where people analytics becomes essential. People analytics, which relies on data analysis as its cornerstone, is crucial in informing decision-making across various HR areas, such as recruitment, retention, and performance management. So, you might wonder, what exactly is people analytics?
Rise of people analytics
People analytics leverages data proficiency to enhance organizational effectiveness and foster performance enhancements. It extends beyond mere numerical and statistical analysis, delving into data to gain insights into individuals and groups, optimizing their well-being and productivity. Human analytics transforms data into actionable steps, driven by identifying areas for improvement through strategic planning, preparation, and execution, ultimately enhancing talent management. It enhances employee experiences and outcomes, propelling business performance and innovation. According to McKinsey, people analytics has been estimated to boost recruitment efficiency by 80%, increase business productivity by 25%, and reduce attrition rates by 50%.
YOU MAY ALSO LIKE I Exploring the AI Frontier: Transforming HR and Payroll Operations
Benefits of people analytics
People analytics can help address questions such as:
How can we identify and recruit the right talent for our organization?
What's the most effective way to create and implement employee training and development programs?
How can we assess and improve employee loyalty and satisfaction?
How do we identify and nurture high-potential employees?
How can we align individual employee goals with the organization's values and objectives?
Analytics in this context is typically categorized into Descriptive, Predictive, and Prescriptive. These analyses combine data from various sources, including surveys, records, and operations, to provide a cohesive and actionable understanding of current and potential future trends. Descriptive HR analytics reveals and explains past and present data trends. At the same time, predictive analysis uses historical and current data to forecast the future, aiding in more informed decision-making, particularly recruitment.
This approach helps define the desired attributes for job openings, enabling data-driven selection of the most qualified candidates. Furthermore, it supports better training and growth initiatives in learning and development, as increased learning correlates with improved performance, leading to greater productivity and job satisfaction. Thus, people analytics also contributes to employee retention.
People are multifaceted and influenced by emotions, motivations, preferences, skills, goals, and relationships. These factors impact their behavior and performance in ways that aren't easily captured by spreadsheets, which cannot provide insights into how people collaborate, learn, and grow. Organizations can gain a competitive edge in the talent market by utilizing people analytics platforms instead of spreadsheets, enhancing employee experiences and outcomes, and empowering individuals with data-driven decision-making capabilities.
Rusheeka Anil Patel is a Service Delivery Partner at Neeyamo's HR Enablement department. She is a dedicated individual who believes in planning, preparing, and performing strategies to deliver excellence and has experience in full-scope HR Operations.
Stay informed with latest updates
If you're curious and have a thirst for knowledge pertaining to the HR, payroll, and EOR universe, don't miss out on subscribing to our resources.