Blog
Unleashing the Power of Data Analytics in HR
Image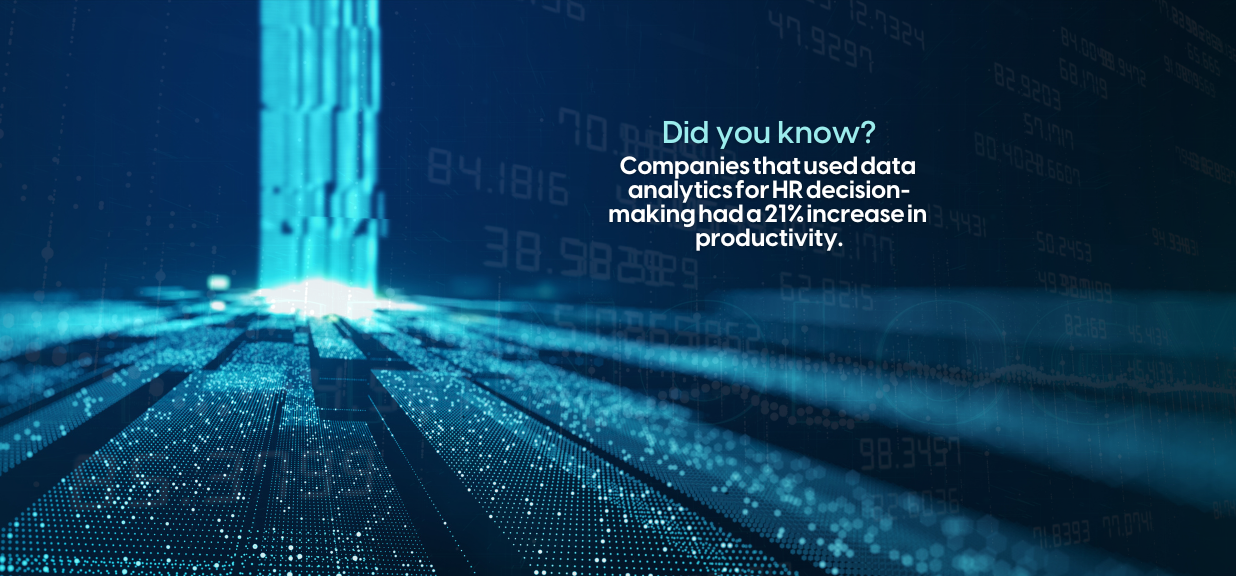 According to a recent study, 71% of HR professionals believe that people analytics is a high organizational priority. HR departments that use analytics are five times more likely to make decisions faster than those that don't.
Human Resources departments worldwide are turning to data analytics to streamline their operations, enhance employee engagement, and boost productivity as the world continues to digitize. The ability to harness data effectively and make informed decisions is becoming increasingly critical in the fast-paced business world. 
ALSO READ | HR Tech Enabling Seamless Transition to Future of Work
The Role of Data Analytics in HR 
Data analytics in HR refers to the process of collecting, analyzing, and interpreting data to identify patterns and trends that can help companies make informed decisions. With the right data analytics tools, HR departments can gain insights into employee performance, recruitment processes, and organizational culture. They can then use this information to make data-driven decisions that will enhance employee experience and boost overall productivity. 
Improve Recruitment Processes 
69% of organizations believe using people's data is essential for staying competitive in today's business environment.
One of the most significant benefits of data analytics in HR is that it helps companies to improve their recruitment processes. By analyzing data on recruitment performance, companies can identify bottlenecks in the hiring process and take steps to address them. For example, if a particular job posting is not generating the desired number of applications, the HR department can adjust the language, job title, or requirements to attract more qualified candidates. 
Enhance Employee Experience 
Companies with high employee engagement levels are 21% more profitable than those with low engagement levels.
Data analytics in HR also helps companies to enhance employee experience. By analyzing data on employee engagement, companies can identify areas where employees may be struggling or require additional support. This information can be used to develop targeted training programs, implement new policies, or change the work environment to improve employee morale.
Boost Productivity
A study by the Society for Human Resource Management (SHRM) found that companies that used data analytics for HR decision-making had a 21% increase in productivity and a 22% decrease in turnover.
Finally, data analytics in HR can help companies to boost overall productivity. By analyzing data on employee performance, companies can identify areas where employees may be underperforming or require additional resources. This information can be used to develop targeted coaching programs, implement new technologies, or change the work environment to improve employee efficiency. For example, if data shows that certain teams are struggling to meet their productivity goals, the HR department can analyze the root causes of this problem and develop initiatives to improve team dynamics, process efficiency, and communication.
Data analytics can help HR departments identify and address employee burnout and turnover issues. 82% of business leaders believe that culture and engagement are key business issues, but only  28% think they're ready to address them.
By analyzing data on employee workloads, stress levels, and job satisfaction, companies can identify factors contributing to burnout and turnover. They can then develop targeted initiatives to reduce burnout and turnover, such as flexible work schedules, mental health support programs, and employee recognition programs. Companies can improve productivity, reduce costs, and enhance employee experience by reducing burnout and turnover.
DOWNLOAD | Global Work: Top 10 Predictions for 2023 and Beyond 
At Neeyamo, we are committed to simplifying HR operations and improving organizational workforce management.
Clients can reduce administrative overhead by leveraging Neeyamo's Global Payroll Tech Stack, automate HR processes, and gain real-time visibility into their HR data. Our modules cover a wide range of offerings, including employee self-service portals, absence management, time tracking, and global reporting, allowing clients to manage their HR operations in compliance with local laws and regulations. 
Clients use Neeyamo's tools to streamline their HR processes, improve workforce productivity, and enhance employee engagement, leading to improved business outcomes. To gain more insights, write to us at irene.jones@neeyamo.com.
Vishlesh is part of Neeyamo's Reporting and Analytics Team, with over two years of experience in Data Analytics.
Stay informed with latest updates
If you're curious and have a thirst for knowledge pertaining to the HR, payroll, and EOR universe, don't miss out on subscribing to our resources.