Blog
Here's the Secret to Servicing Employees in the Long-tail
Image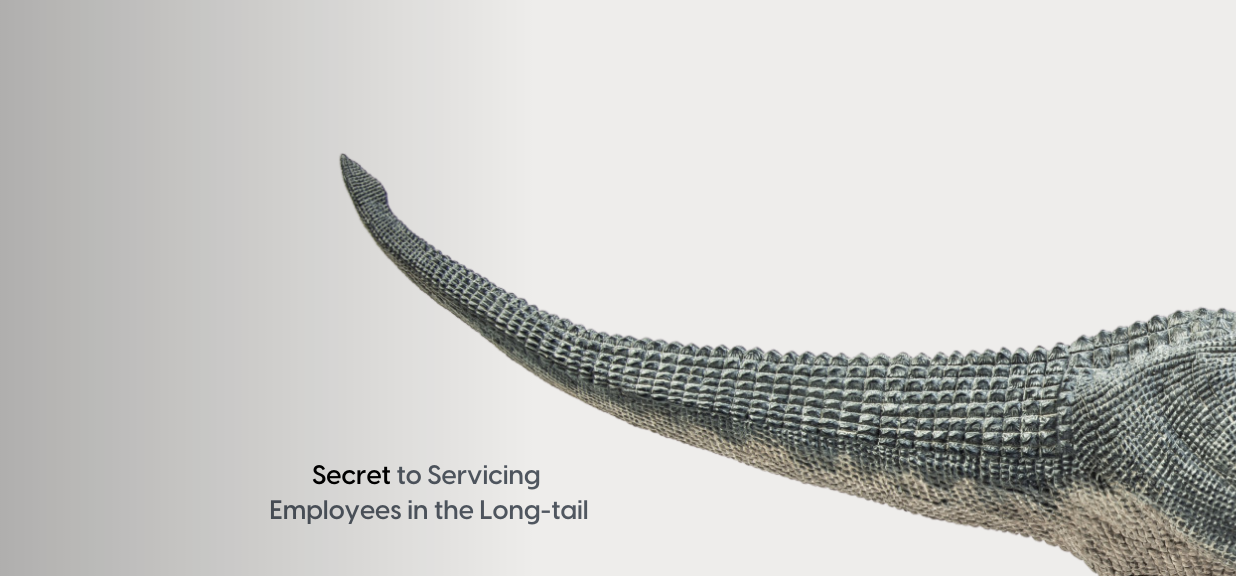 The 2020 State of Global Expansion report has an interesting fact for us. Nearly all SaaS, Big Data, and Agtech firms are planning on entering a new country in the next 12 months. Global expansion has been and will be a paramount strategy that every multinational company follows diligently. In that case, it is important that the HR functions of these companies offer the best experience to every employee, irrespective of where they work from. The truth is: It is easier said than done.
We have already covered here what long-tail countries are and how employees working from that region feel left out owing to inconsistent HR processes. Over the years, companies have been experimenting with several working models to offer the same HR services to employees from long-tail countries and employees elsewhere.
The anatomy of the long-tail is characterized by a catastrophic combination of low employee headcount scattered across a long-tail of countries, broken processes, and very limited access to the HR technology infrastructure. It is a nightmare for HR leaders across the globe to keep these employees engaged and have visibility & control over these geographies. Not to mention that the local compliance requirements galore and a large number of vendors to manage. Long-tail is a serious problem for those managing HR in multinational companies.
Now, let's look at 5 key long-tail HR strategies that should help you effectively manage talent in long-tail countries:
1. No bees, no honey; no work, no money.
A critical aspect of payroll is its impact on the morale of the employees. They need to feel assured that they can be paid on a consistent and timely basis. This expectation becomes more accentuated for an employee working out of a remote location.
Takeaway: Get your global payroll strategy right.
2. Garbage in; garbage out.
A multinational company had a shock of its life when its leaders found that a highly compensated employee, who had actually stopped reporting to work for 3 months, was continued to be paid. Inadequate data, inaccurate data, and inconsistent data inputs can have significant repercussions in your long-tail HR operations.
Takeaway: Ensure your HR and payroll data are accurate
Also read: 5 ways to ensure source data quality for payroll accuracy
3. Think compliance is expensive? Try non-compliance.
Well, payroll does play a vital role in protecting the company's reputation by ensuring compliance with various legislations. But HR compliance is more than just payroll compliance. There are close to 200 countries and around 320 legal jurisdictions that can translate to thousands of HR laws/regulations and millions of compliance transactions!
Takeaway: Ensure you are aware of local compliance first and then comply next.
Also read: How Risky is Non-Compliance to your Business?
4. In technology, we trust.
Servicing long-tail HR effectively and efficiently is only possible as a result of the following equations.
Platform = Productivity; Platform = Predictability.
Productivity ensures that you can service your long-tail employees sustainably with a sound business case. Predictability ensures you have the required transparency and control over your HR and payroll operations in the long-tail of countries.
Takeaway: Leverage the right technology/partners to drive your long-tail HR.
Also read: 4 ways how HR Technology will impact the future workplace
5. Too many moving parts? Move now.
One vendor for payroll, another one for records, and yet another one for time, expense, mobility, and what not! That's not just it – you also need to ensure that these vendors are appropriately empaneled and comply with your organization's standards – like ISO, ISMS, and SSAE. The lesser the number of vendors you have to manage the better, and if this vendor can bring along the right credentials to give you that confidence – then even better!
Takeaway: Consolidate your long-tail vendor network.
So well, 2 employees are all that you may have in Thailand, but you now have an opportunity to offer the best employee experience to equally to every employee. Are you curious to know how? Write to us at irene.jones@neeyamo.com.
From the desk of Neeyamo's editorial team.
Stay informed with latest updates
If you're curious and have a thirst for knowledge pertaining to the HR, payroll, and EOR universe, don't miss out on subscribing to our resources.