Blog
Unlocking Global Growth: How Employer of Record Reshapes Workforce Management
Image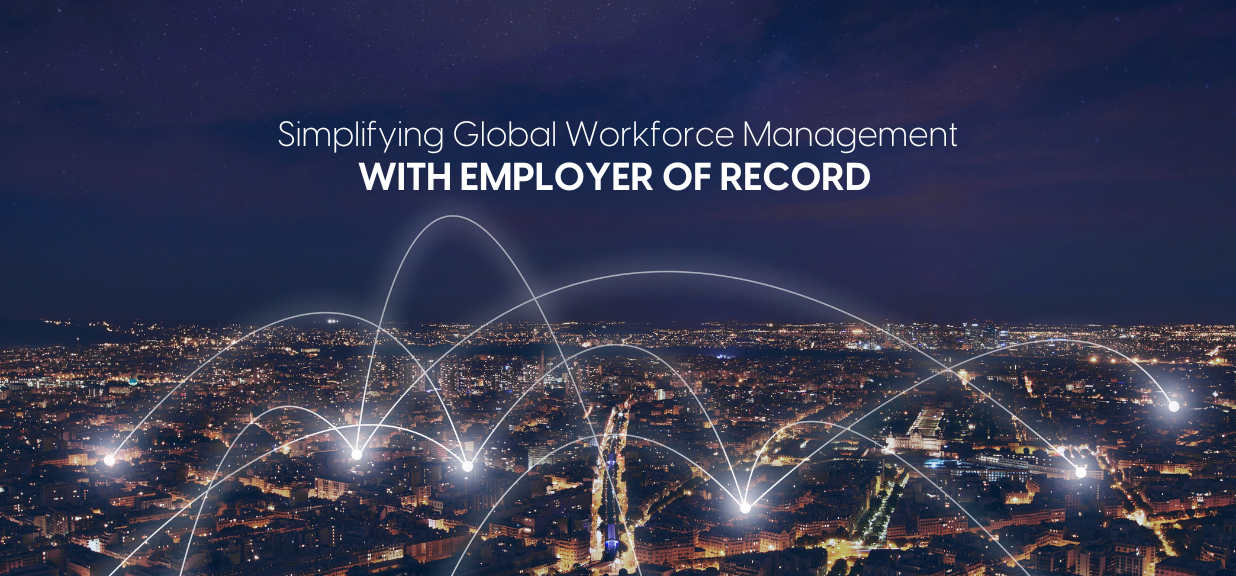 In today's world, businesses are no longer bound by geographic boundaries. Beyond an expansion mandate, it has become a global marketplace calling, offering unparalleled opportunities for growth for businesses.
And with newfound global reach comes a labyrinth of complexities in managing an international workforce. Enter "Employer of Record" (EOR), a concept that not only enables global workforce management but reshapes it.
Reshaping global staffing dynamics
There is no doubt that global Employer of Record services enable global expansion. If a company wants to hire a talented software engineer from Brazil, a skilled graphic designer from India, and a savvy marketing manager from Germany, it is no longer just a vision in the pipeline but something that can be achieved. Thanks to EOR services.
EOR has enabled faster and easier global expansion by reducing the time and cost of entering new markets. This has allowed companies to hire employees in as little time as 48 hours without the hassle of setting up a legal entity.
Also read | The Influence of Employer of Record in International Business
EOR also eliminates the need for multiple vendors, contracts, and invoices, providing a single channel for everything from payroll to tax, compliance, and other legal issues.
EOR also enables companies to access a larger and more diverse talent pool globally without any limitations. With the advent of remote work, flexibility is a requirement. And EOR has enabled efficient recruitment.
It allows companies to adjust their workforce size and composition according to their business needs without worrying about terminating or renewing contracts, visas, or benefits.
The right EOR service provider will consolidate all these processes under a single platform to maximize efficiency.
EOR and Risk Mitigation
Risks are bound to follow businesses as they expand into multiple countries. These risks only increase as a company expands into new markets.
However, an EOR helps mitigate these compliance risks effectively by taking on the legal responsibility of employee management.
EOR handles compliance with payroll, tax, and social security laws by taking care of tax withholding, social security contributions, insurance coverage, and other employee statutory obligations and avoiding any penalties for non-compliance.
Know more about Global Expansion | 5 Unique Employee Benefits to Attract Global Talent
An EOR also establishes a clear employment relationship with the workers and the client company, helping them assess the risks of global expansion and enabling them to move forward strategically.
An EOR provider is an investment gaining increasing importance thanks to its potential to minimize risks and liabilities, allowing companies to concentrate on their core business operations.
Utilizing EOR for optimized employee management
There is no doubt that an EOR is a cost-effective business tool. But it is equally important to select the right fit for your organization.
Fortunately for businesses, Neeyamo's Global Work solution offers a truly global platform that consolidates all employee management processes end-to-end.
With an impressive coverage of 160+ countries, the Global Work solution is powered by Neeyamo's native Global Tech Stack, which has a technology-first approach to optimize HR processes. From onboarding to offboarding, this solution will ensure a seamless and holistic employee management system and the best employee experience.
To know more and join our Global Work Community, contact our experts today at irene.jones@neeyamo.com
From the desk of Neeyamo's editorial team.
Stay informed with latest updates
If you're curious and have a thirst for knowledge pertaining to the HR, payroll, and EOR universe, don't miss out on subscribing to our resources.