Blog
Country Spotlight: Employer of Record in Australia
Image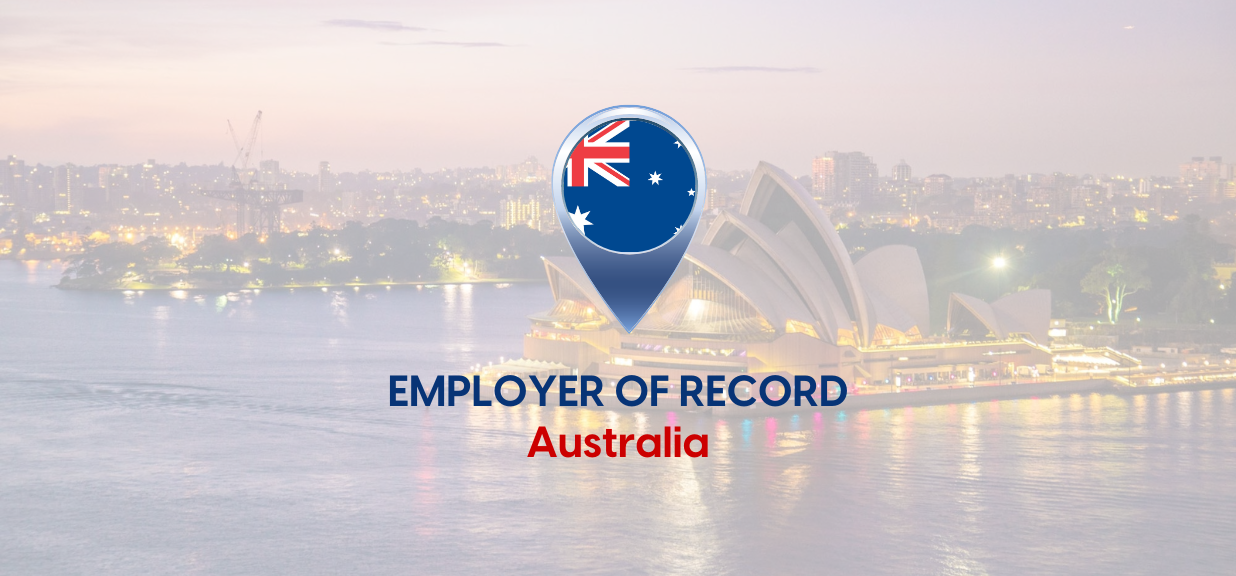 Australia is a special place. Not just because of its beautiful beaches, or because it's home to the Great Barrier Reef, or because it is the homeland of kangaroos.
It is obviously because of the numerous designated wine regions there.
Err... Not really. It is because Australia is a rich and diverse country that offers multiple opportunities to its visitors. After all, it ranked fifth with a score of 0.951 on the Human Development Index 2022.
As an enticing destination for global expansion, it is important that companies seeking out employees from here know about the hiring process and the intricacies that may come with it.
What should you keep an eye out for?
Compliance is something that should not be compromised. For any organization looking to hire out of Australia, it is crucial to be familiar with the Fair Work Act of 2009.
It explains in detail the employment laws and regulations to be abided by. The Fair Work Commission (FWC) is the governing body for this.
With effect from July 2022, the government-mandated wage is 21.38 AUD per hour, with the work week constituting 38 hours.
Any time worked beyond that counts as overtime. The FWC offers 'Industrial Awards' to employees who work overtime.
Also read | Overcoming the Global Payroll Challenges in APAC
The Australian Industrial Award Show
An "award" is simply a ruling handed down by the FWC that covers the pay rates of overtime employees. And overtime wages are not the only mandate covered under the Industrial Awards. Awards are offered at the national and state level.
At the state level, these awards are handed out to employees when there is a deviation in their minimum wage, leave entitlement, work hours, or workplace conditions.
The awards given at the national level provide a safety net by drafting the terms and conditions for the employment conditions of federal employees.
Employers must be wary of these conditions. In such situations, an EOR service provider proves to be a blessing in managing employees efficiently.
Leaves in Australia
With a land as beautiful as Australia, it is only natural that employees feel like taking a vacation.
Australian employees get four weeks of paid annual leave, extending to 5 weeks if applicable by an employee's "award." This is in addition to the public holidays they receive.
Apart from this, employees can take 10 days of sick leave if they have to care for a family member.
Employees are also entitled to parental leave. Female employees are offered up to 18 weeks of paid and 12 months of unpaid maternity leave. Fathers are allowed five days of paid leave at birth or in case of adoption.
You may also like: Payroll to the East | Spotlight on Australia
Onboarding and Offboarding
While there are no hiring specifications, employers can encourage disadvantaged people to apply to enhance diversity. There are also anti-discriminatory laws placed in effect by the FWC. Employers identified as biased against an applicant based on race, color, sex, sexual orientation, age, or any other criteria will be penalized.
During onboarding, employees must submit essential documents like personal details, identification proof, proof of residence, etc. Immigrant employees must additionally submit a certificate of Australian citizenship and a valid visa.
The probationary period can be between 3 to 6 months.
However, notice period and severance pay, conversely, can depend upon the work period.
Tackling employee management hassles
With multiple pieces of information to be kept in mind while managing employees, companies must be equipped with a capable employee management system.
EOR is an effective solution that can be implemented to expand globally while being cost-effective. What better solution than Neeyamo's Global Work which provides the best employee experience while optimizing HR processes with a technology-first approach.
Reach out to the experts today and tackle any hurdle that comes your way.
From the desk of Neeyamo's editorial team.
Stay informed with latest updates
If you're curious and have a thirst for knowledge pertaining to the HR, payroll, and EOR universe, don't miss out on subscribing to our resources.