Blog
What is an Employer of Record(EOR)?
Image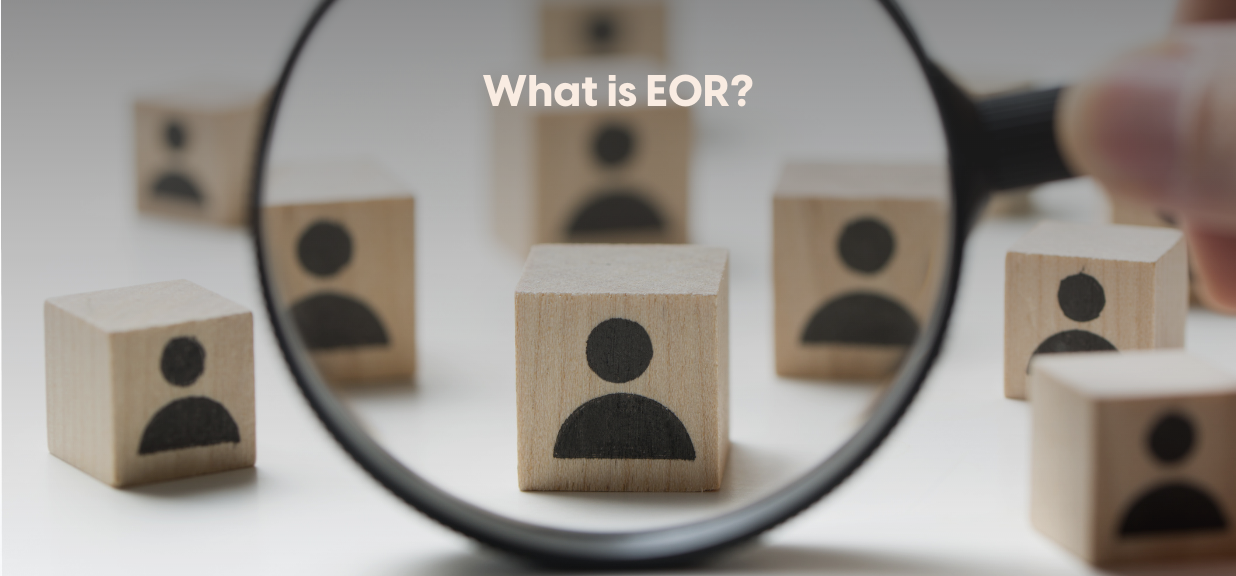 Are you looking to expand your business worldwide?
Global expansion provides the means to accomplish objectives such as venturing into a new market, expanding the current client base, tapping into a worldwide talent pool, or reorganizing supply chains. And this is where the Employer of Record(EOR) steps in. 
While the "why" of global expansion is quite evident for many organizations, it is the "how" that often poses as a challenge.
If you have found the ideal candidate for a job, but they live in a country where you can't legally employ them, what do you do?
How do you factor in local laws and regulations, from health insurance to payroll taxes?
Previously, the answer to these questions was the employment of independent contractors in that country. However, there is a much better solution now, thanks to the emergence of the Employer of Record (EOR) as a service.
Recently, many businesses have opted to deploy EOR services as they are both efficient and cost-effective. Read on to learn more about EOR.
What is an Employer of Record (EOR)?
The Employer of Record service helps companies onboard, manage, and pay employees who work overseas. This service is available to small, medium, and large organizations. The EOR concept is not new; it was developed in the United States in the 1960s due to the difficulty of employing workers across state boundaries and was often referred to as Professional Employer Organization [ PEO] services.
With the right provider, an organization can seamlessly hire five candidates from one country or hire five candidates from 5 different countries. You can grow your company's network and reach by recruiting additional international workers.
When to Use an Employer of Record service provider?
The organization may need to act quickly or need a temporary solution to satisfy the demands of a project or a new business initiative in international waters.
The process of forming a local company can consume time and be expensive. As a result, having global Employer of Record services might be a cost-effective approach to hiring people anywhere.
An EOR is frequently used when a company wants to do business in a new country without establishing a physical presence. Here are five ways in which this service can prove to be useful.
– Assist international hiring in an accessible and compliant manner.
– Function as a stopgap for an entity.
– Help with a merger or acquisition.
– Assist in exploring new markets.
– Aid when shifting to remote work.
What are the benefits of choosing an Employer of Record (EOR)?
Once the candidate is hired and onboarded, the EOR becomes the legal employer and the official point of contact regarding their international employment record, adherence to employment legislation, and HR compliance concerns. This means, as an organization you have mitigated the risk of non-compliance to a considerable extent, knowing that your EOR provider has your back.
According to a recent CFO Research study, the most crucial benefit of working with a global EOR is Legal/HR compliance assurance, according to 51% of respondents, followed by Regulatory compliance assurance and the opportunity to Leverage EOR's local knowledge and expertise.
Furthermore, some of the top benefits of EOR are:
– Saves time – Hiring new employees and processing their payroll is a painstaking task for HR. EOR can manage your global employees for you, freeing up time for other strategic initiatives.
– Maintains accuracy – An Employer on Record is a provider who can help you with your payroll and benefits, and also keep you up to date on compliance reports.
– Labor law compliance – It can be difficult to stay compliant with labor laws when you're running a business on your own across countries. An EOR monitors social standards and tax tables in countries around the world.
– Risk Mitigation – Hiring an employer of records allows business owners to delegate some of their obligations to a third party. The EOR service provider retains accountability as employees are on the providers' records, official papers, draughts agreements, and tax documents.
– Cost-efficient– Opening an overseas office incurs a flurry of expenses, from the price of creating a subsidiary to the costs of recruiting legal and financial support.
What are the responsibilities of a conventional Employer of Record provider?
EOR organisations, in most circumstances, undertake the following key tasks:
– Process the payroll of the employees.
– Serve as a liaison between the government and the customer.
– Ensure that all local labour and payroll tax laws are followed.
– Fill out tax and insurance papers on behalf of the employer.
– Arrange for documents related to visa and work permits if an overseas employee must relocate.
– Provide consulting services to the organization on employee onboarding, severance compensation, and contract termination best practices in the region.
The future of global Employer of Record services
When an organization evaluates the cost and effort required to employ a workforce in a foreign location, the advantages of EOR become apparent. Companies must find a solution to overcome international business challenges.
According to a recent CFO Research poll of senior finance executives, 58% of finance executives said their companies are collaborating with or plan to collaborate with a global EOR in the next three years to support their overseas business strategy.
Likewise, nearly 94% agreed that a credible global EOR could perform a better job than the ordinary company at overcoming hurdles to operating in a new country as EOR providers can take care of everything for you! They assist in achieving your global expansion goals while reducing legal risks.
Technology is essential for managing payroll and employer of record today. Having a comprehensive HR technology ecosystem in place gives organizations a complete view of their workforce and how it is managed across all HR and payroll processes.
If you want to hire anywhere in the world without any hassle and want to collaborate with an employer of record, don't hesitate to contact us. Neeyamo is a market leader in providing EOR solutions and Global Payroll solutions. As a global leader in payroll, we take a local approach to employee engagement. Our strong compliance foundation and easy-to-use payment gateway make processing payroll a breeze, no matter where your employees are located.
Contact our consultants anytime, and we look forward to contributing to the development and success of your business.
From the desk of Neeyamo's editorial team.
Stay informed with latest updates
If you're curious and have a thirst for knowledge pertaining to the HR, payroll, and EOR universe, don't miss out on subscribing to our resources.